The Best Beaches in Greece
Greece is a country of exquisite coasts, nearly every one of the hundreds of island, and lots of the mainland too, offers beaches and spectacular scenery.
A few really stand out:
There's Elafonsi in Crete, there's Agios Prokopios on Naxos and of course Paradise Beach on Mykonos.
But the most beautiful coasts and beaches of all are not here...they are to be found on the Ionian Islands.
These then are the best beaches in Greece:
Myrtos Beach on Kefalonia (Cephalonia)
They call Kefalonia the emerald isle of Greece and if you're here in early spring the green of the island, set against the deep blue of the sea, is simply gorgeous. It's not only the beaches though, there's a touch of Italy to add to the magic of Greece. I guess that's because for centuries the island was a part of the Venetian empire and it lives on in the food and architecture. Enough talk - join us on a journey through the island of Kefalonia and onto Myrtos Beach.
Navagio Beach on Zakynthos/Zante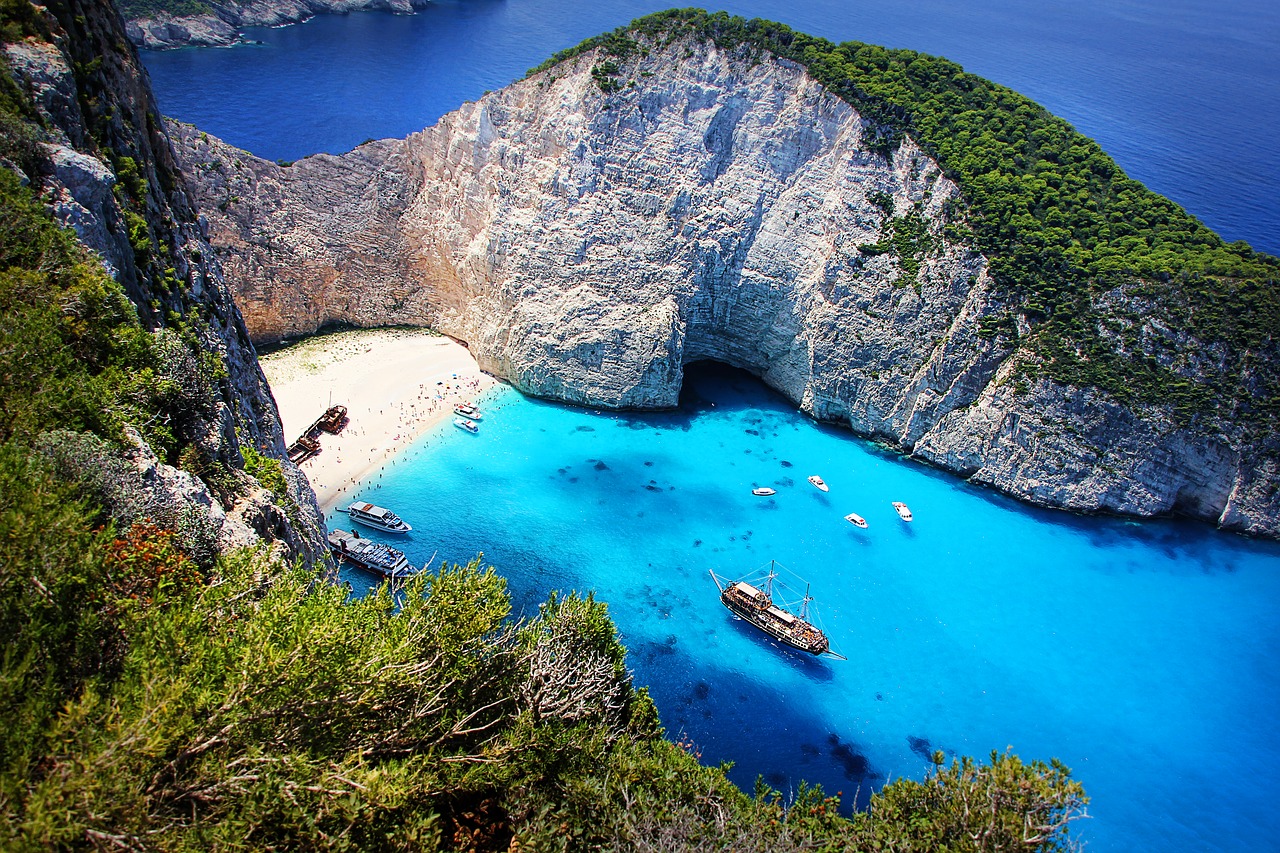 Of all the beaches and coastlines of Greece this one stands out head and shoulders above the rest. If you've a bucket list and this beach isn't on it then you need to grab that list right now and add it. For more on Zakynthos and the beach click here.
Porto Katsiki on Lefkada/Lefkas
Lefkada is another emerald gem set in turquoise seas. The island has lots of beaches but one truly stands way above them all – it's the beach of Porto Katsiki. Read more about the island and this magnificent beach here.
Where to Stay
These are some of the hotels on the Ionian islands that we recommend you consider. They've been put together by my family with the advice of my Greek mother-in-law who has always been very happy to give me lots of advice ;-)

On Lefkada: Sunset View Studios
On Kefalonia: Romanza Studios
On Zakynthos: Palataki Absolute Blue
When to Visit?
Spring is best (late May/early June would be my choice). The water may be a little cooler but the islands are very green after the winter rains and far lovelier than late summer when everything looks all dried out.
It's not crazy hot like it is in July and August either but more than warm enough. Temperatures during the day average around 28 celsius (82 fahrenheit) and evenings are still warm, although you may need a light sweater.

Getting Here
Flights arrive throughout the year; however, during summer there are way more arrivals - try Kayak for the best deals.
A more fun way though is to explore various islands by ferry. The Ferries in Greece ferries run throughout Greece and cover the mainland and islands. You can also get a ferry over to Italy or from Italy.
Map of the Islands
---
---
---