Sibuya -Beach and Safari
When it comes to beach and safari options there is one game reserve that stands out head and shoulders above all others. You even have to travel there by boat, a journey that starts from just back of the beach!
On Safari We Go
After I'd spent a few days in Kenton on Sea (read more here), enjoying life in this laid back beach town, it was time to leave the beach and start the safari.
I headed to the boat house on the river that flows into the ocean here. It was dawn - another perfect day in a part of the world said to have the second best climate on earth - only Hawaii is better.
To get to my destination, Sibuya Game Reserve, there was only one option - boat.
Now I've been on safaris in Kenya, South Africa and elsewhere in Africa but the journey to Sibuya left those in the dust. The boat trip up river from beach to bush was one of the most memorable experiences of my life.
Slowly the signs of civilization fell away and the wild forests of the interior began to dominate. Birds announced our arrival with an orchestra of sounds, so out of tune, so uplifting.  Elephants rumbled down to the water's edge trumpeting news of our arrival far and wide.
We glided into camp, deep in the forest, like a scene from the movie "Out of Africa". No internet, no cell phone reception, no television. Restored to simpler times my frustration quickly vanished and slowly I felt the weight of the world lift from my shoulders.
No email, no Facebook.... I didn't care.
I was surrounded by wildest Africa and no post on Facebook was ever going to beat that.
The younger generation was in more of a state, I mean how can you live without Snapchat and Instagram, without checking your phone five times a minute? 
You could feel their panic!
A few days here though and even they've realised the world isn't inside a phone, it is out there... wild, wonderful. If you've got kids it is worth taking them here just for this lesson.
Accommodation Options
Forest Camp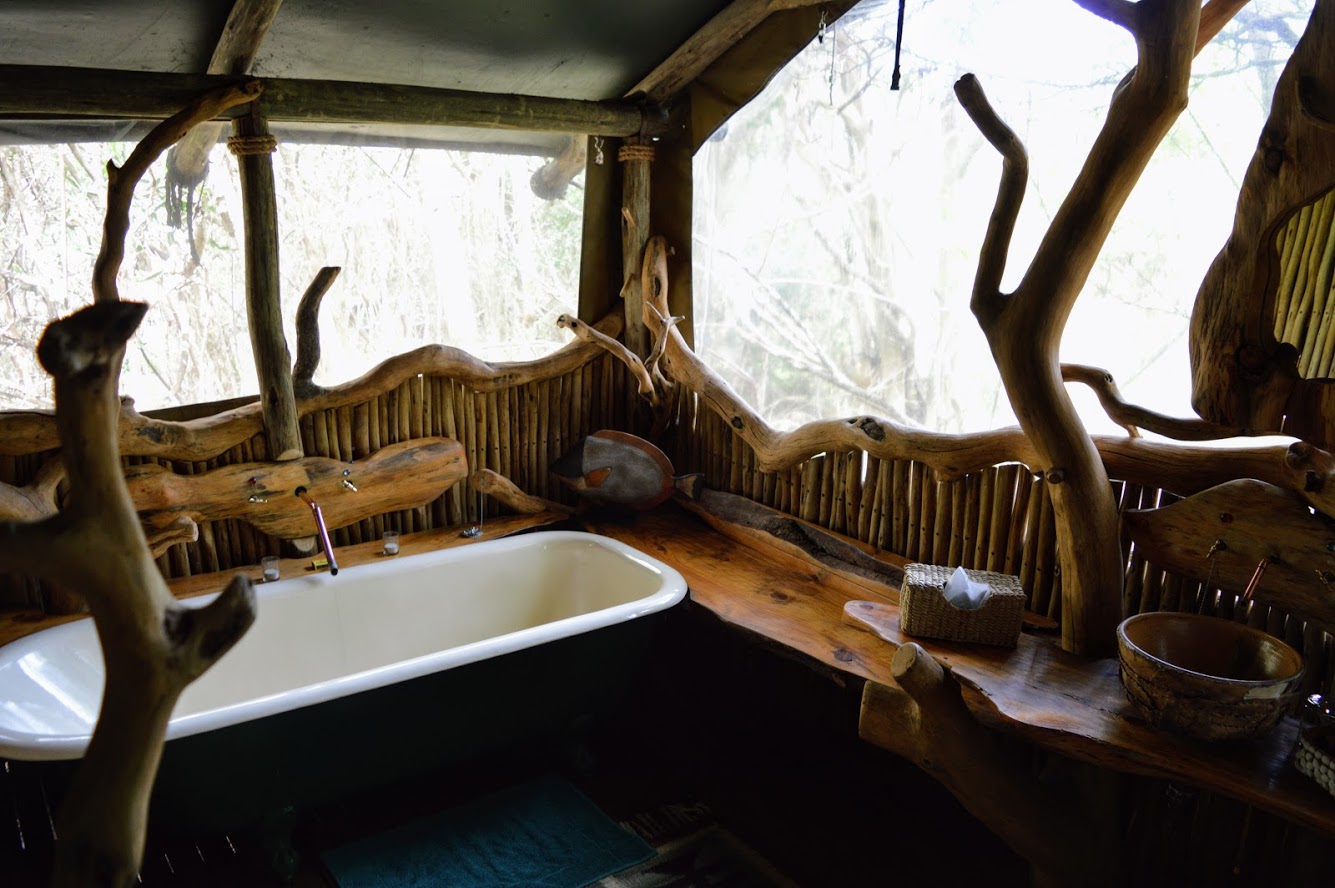 You'll stay in luxury tent hidden in thick forest . Mornings start to a huge variety of strange and exotic birds making sounds both beautiful and startling. 
Forest Camp is where those dreams, those visions of an African safari come true. Dinners are served around tables looking out across the wilds of Africa, outside too is a campfire where stories are told and memories made.  Stories shared here become your stories to share on your return home, they become a part of who you are... some change you forever.
Before you retire for the night gaze heavenwards; there are a million more stars than you've ever seen before. You can hardly believe that the night sky could possibly look like this - truly unreal.
River Camp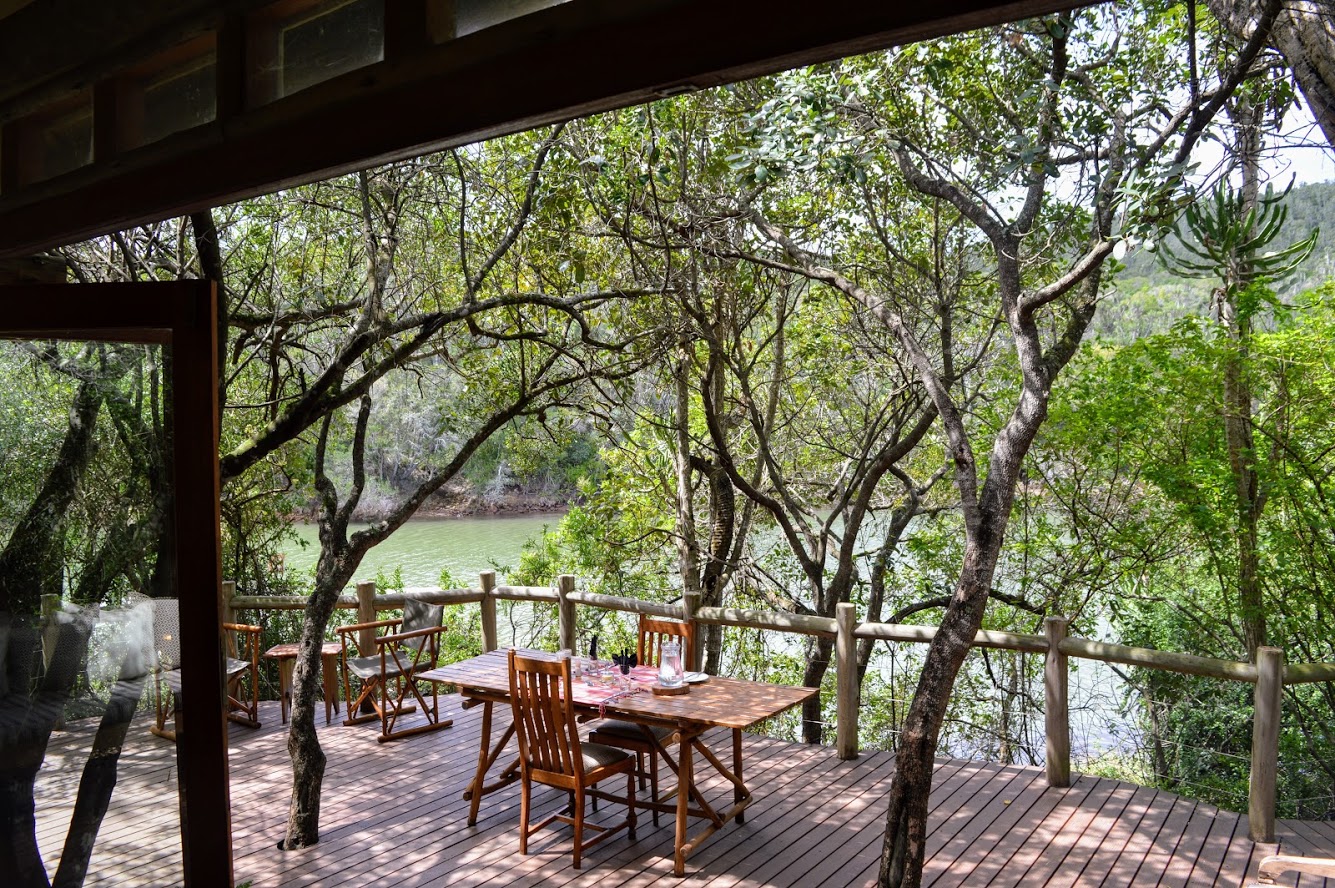 A small camp, perfect for families where the birds at dawn are as noisy as in forest camp.
You sleep deeply here. Once the sun has gone down the only sounds are of water lapping the river banks and the occasional roar or grunt as a wild animal passes by your luxury tent on his evening outing.
Food is just as plentiful and good as at Forest Camp, washed down with excellent local wines and beers. The rangers and staff are friends by the time you leave.
Bush Lodge
For those looking for a little more luxury Bush Lodge is the answer, not that the other two options are roughing it exactly. This is a big old manor house with a thatched roof and it is connected to the main electricity grid so you aren't quite so cut off from the rest of the world. To be honest though I personally prefer the "back to the bush" experience of the other two camps.
Game Drives
The thing I love about game drives here is that you head out with your ranger in your 4 X 4  vehicle and it is only you and your small group. Nothing like some of those safaris in Kenya where every "Big Five" animal is surrounded by vehicles and the only sounds are the frantic clicking and whirring of cameras. 
Fabulous too is the variety of vegetation; first you're in thick forest and then you emerge onto vast African plains where elephant and rhino rule.
Nothing is the same for long here.
You'll never feel that your game drive is monotonous, the scenery changes continually and so does the parade of animals - monkeys in the forests, antelopes, giraffe, lions, rhino. You've all of Africa's most incredible creatures right here and, because the environment supports high numbers of animals per square mile, you've a great chance of seeing most of them.
Game drives leave early in the morning and just before sunset. The sunset drives were my favourite but do take a jacket as evenings can turn cool here. One thing I'll always remember on evening game drives is enjoying an aperitif as the sun went down over the African wilderness. You've pretty much got your choice of drinks but I savoured a crisp, fabulous South African white wine and tucked into that greatest of all South African snacks - biltong.
During the day, at Bush Lodge only, you've the opportunity to go on game walks with your ranger, this allows you to see many of the little lovelies - birds, bugs and reptiles that you'd miss on a game drive. Well worth doing.
Eating & Drinking
Your food and drinks (non-alcoholic soft drinks, excellent local beers, wines and some spirits) are all included in your stay. Food is excellent; made from locally sourced produce it is served in huge quantities. Rest assured, all this fresh air gives everyone a massive appetite. If you like they'll even prepare a picnic on the beach for you and take you there by boat.
Nearby
Sibuya does run boat trips down to the beaches but personally I'd suggest you spend your time on safari in the bush. Do the beach part of your beach and safari adventure first, in Kenton on Sea and Port Alfred, and then getaway from it all on safari.
Map of the Area
---
---
---