The 3 Best Beaches in Thailand
Thailand was once THE unspoiled paradise but many of the best beaches and towns are now changed beyond redemption; thanks to over-development and the swarms of young tourists excited more by cheap booze and drugs than Thailand's culture or beauty.
Personally I now prefer Vietnam, however, there are a few Thai beaches and coasts still making lists of the best in the world.  These then are the three best beaches in Thailand - all are well worth a visit (there is a map at the bottom of the page should you not be sure where they are).
Don't wait too long to visit though -  these paradises will be lost forever within the next five years. 
Ko Phi Phi Don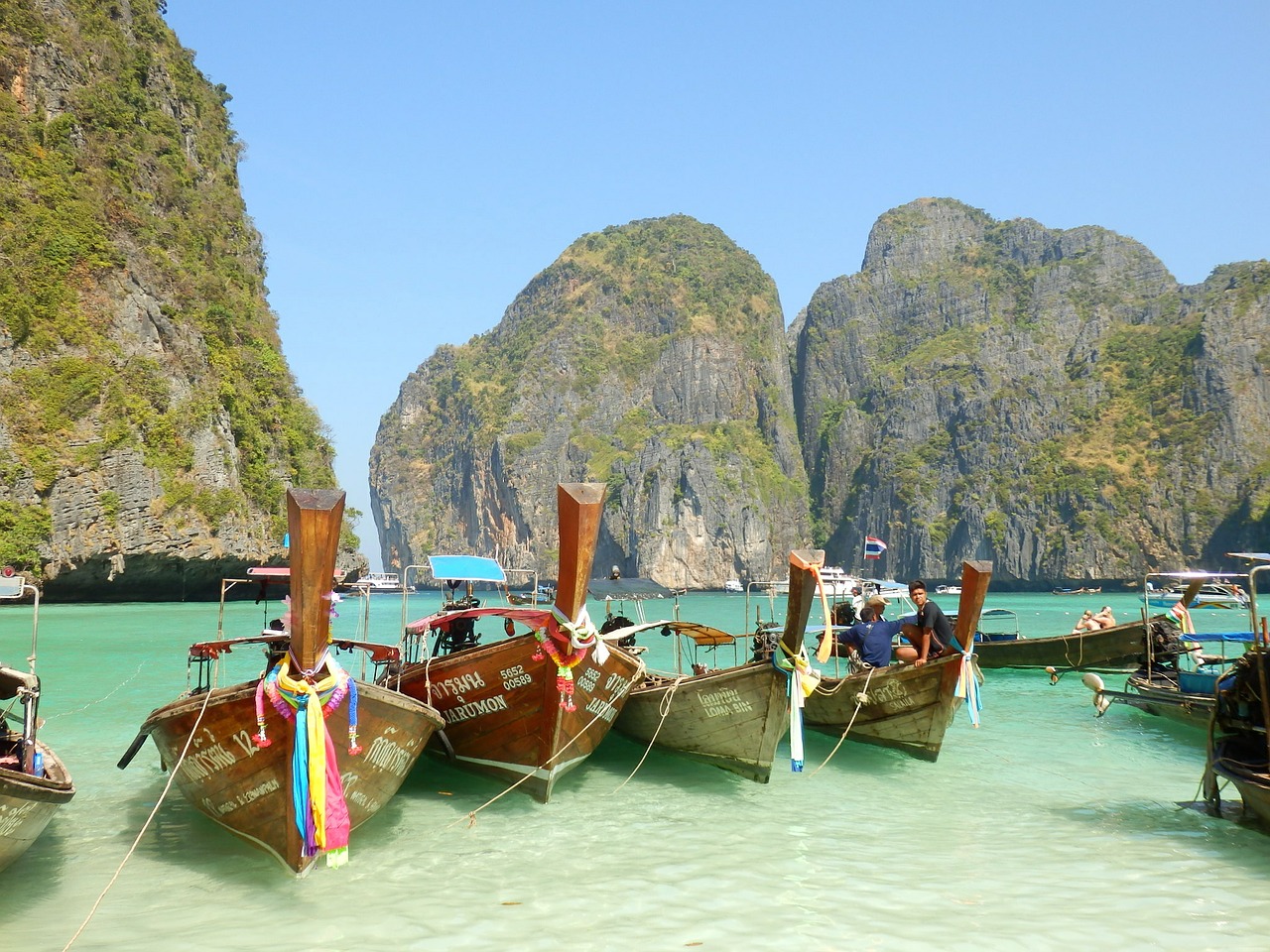 Still beautiful, although quickly heading the way of much of the rest of Thailand as a result of day-trippers arriving on the island en-mass from Phuket.  The nearby island of Ko Phi Phi Lee is mainly responsible for the islands becoming well known to international tourism, thanks to the filming of The Beach movie there.
If you'd like to visit Ko Phi Phi Lee from Ko Phi Phi Don there are plenty of tours by long-tail boat, like the ones in the photo above. They leave from Phi Phi pier and cost about 1,200 Baht, including entrance to the National Park of Ko Phi Phi Lee. You can also go by motorboat, for three times the price, but come on... do you really want to go by motorboat? You can go on a motorboat anywhere but a trip on a long-tail boat is one of those bucket list experiences you'll only get in South East Asia.
Our Tip: The good news is that because so many of the people who overrun the place are day-trippers it is worth staying over to appreciate the beauty of the island once a lot of the tourists have left – most are gone by 5 pm.
Depending on your budget either the  Zeavola Resort (fairly expensive) or the  HIP Seaview Resort (great value) are the best options when it comes to places to stay.
West Railay Beach
Now this is one of those beaches you'd expect to see in a James Bond movie. No cars (you can only get here by boat) and an isolated location means tourists are far fewer than in Phuket, so while you won't exactly have paradise all to yourself you will have plenty of space to stretch your limbs and you'll get a more authentic feel of the "real" Thailand.
A few beach bars and hotels, blending in perfectly with the emerald forests behind the golden sweep of beach, are all the commercialization you'll find. None of that drunken, drug fueled, craziness and debauchery that goes on elsewhere. If you want that craziness then rather go to Phuket.
Where to stay? Well it does depend on your budget but the best overall option is the Railay Village Resort & Spa.
Don't waste a minute though – get here before this paradise is lost forever. 
To get here take a longtail boat from Krabi Town or Ao Nang.
Ao Phra Nang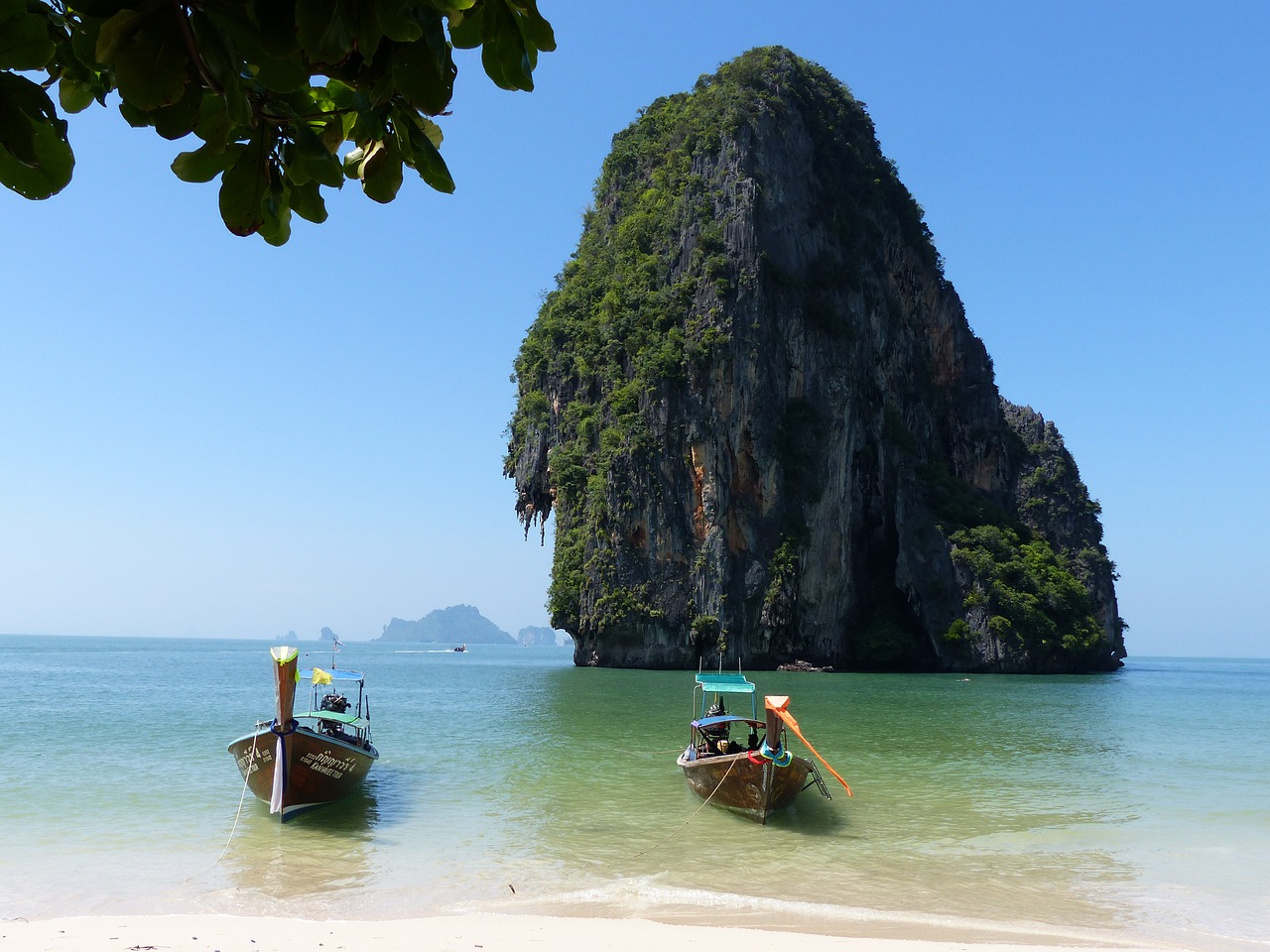 Phra Nang is also one of the three Railay beaches, the only one we haven't mentioned is East Railay which has hardly any beach worth mentioning.
Some say Phra Nang is Thailand's best beach and I would agree – it is amazing. You've got golden sand, seas of emerald green touched with turquoise and a huge island of tropical green jungle rising from the sea - have enough sun or alcohol and the island begins to look like a giant whale emerging from the water.
Nothing much to do here either... which is wonderful. Laze about in the sun, swim in the warm sea and enjoy a traditional lunch served from one of the longtail boats – the best beach food I've ever had.
You are best off staying on West Railay - accommodation near here is mostly of the backpacker variety.
Our Tip: Stay until sunset - once the late afternoon arrives a lot of people leave to go back to East or West Railay and you're left pretty much alone on paradise beach.
Map of the Best Beaches in Thailand
---
---
---