Furore 
Beach, Fjord & Medieval Village
I used to think you only found Fjords in Norway or Iceland. On visiting Furore for the first time I was amazed to find that I was wrong.
Here under the blazing Southern Italian sun is a fjord ... a simply stunning one.
You won't get ice or snow here - only warm, sparkling sapphire seas.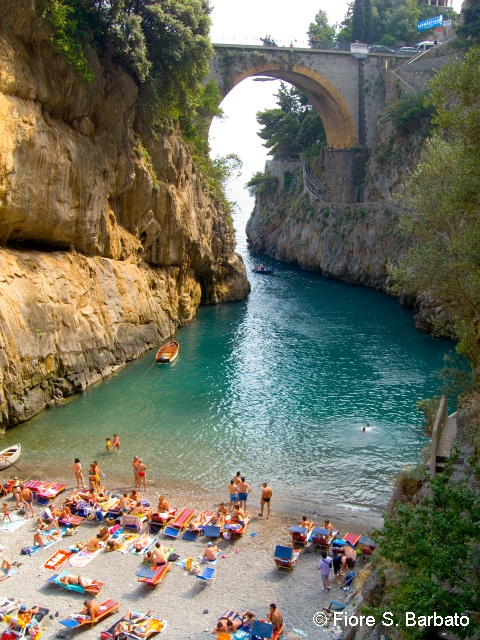 Furore by Fiore S. Barbato
Who wouldn't prefer admiring a fjord while lying on the beach rather than all wrapped up against the cold?
Stay at the nearby Villa San Giuseppe or the Locanda Del Fiordo, both of which offer incredible value and dreamy views.
If your visit is for a really special occasion or you just want to feel special, you may want to check out some of these nearby hotels. 
Not only a beach...

Behind the beach there's an old fisherman's village with a mill from long ago, a couple of medieval churches and a museum called the Ecomuseo.
Inside the museum they've a bit of everything ranging from astronomy, to local botanical information, to a library.
Nearly forgotten, the village is decorated with some amazing murals. They add more each year as part of a festival.

Wandering around it is easy to imagine how it must have once been, many centuries ago, when outcasts from the bigger surrounding towns were exiled here and forced to live the life of simple fisher folk.
As part of their "punishment" they were obliged to feed themselves from the fruits of the sea, and the olives, berries, lemons and grapes of the surrounding hills... doesn't sound too bad to me!

Higher up the hillside is the newer part of Furore, called San Michelle Furore, with its winding roads offering an amazing drive with some gorgeous views. The hills up here are covered with picturesque vineyards and lemon groves.
Getting Here
If you're not staying in Furore itself you can catch the bus from the town of Amalfi, tell the driver you want to get off at Furore though - it is easy to miss the stop. 

From the bus stop you've a steep walk down a path that leads to another world ... Furore.
Sometimes I feel like Alice in Wonderland when I get here.
Furore is so utterly different to anywhere else I've ever been ... and in a way that makes me want to return.

Nearby
---
---
---