Living the Good Life:
Morgan Bay & Kei River Mouth
Pristine scenery, endless beaches and the chance of picking up a Ming porcelain vase ... for free! 
Let's Explore!
Pont across the River
Take your car on a pont ride across the Kei river. This is one of the last pont barges left in South Africa and it is an experience that takes you back to another age. You can read about the Pont here.
On the Beach
Remember those Ming vases I spoke about at the beginning of this article?
The vases (sadly broken) wash up regularly from a 17th century Portuguese shipwreck. You will find your "priceless/valueless" Ming on Treasure Beach, in the Double Mouth Nature Reserve - located 4 kilometres south of Morgan Bay. Once you reach the reserve's campsite the beach is a short walk away. This is one of the best beaches in South Africa.
Our Tip: You need to wade cross the river mouth to get there, and you will need low tide for that, so check the tide times with your hotel before you go. Low tide is also best for another reason - it is then that more of the beach is exposed, meaning that there is a greater chance of finding your Ming vase.
Nearer Morgan Bay, and on the Kei River mouth itself, there are some lovely beaches too. The one in Morgan Bay is over a mile long.

The best beach for young kids is just south of the Kei River mouth, at the mouth of another small river called the Cwili and opens onto a little bay. Here the ocean is a lot calmer - perfect for smaller children to enjoy.
For a wildly beautiful beach it is hard to beat the one in front of Trennery's Hotel - north of the Kei River Mouth. It is called Qolora Beach, is absolutely enormous, and usually pretty much deserted... except for the occasional cow.
It is also one of the best beaches in the area for surfing. 
Barbara Streisand & John Denver's Jet ... plus Dentist's Chairs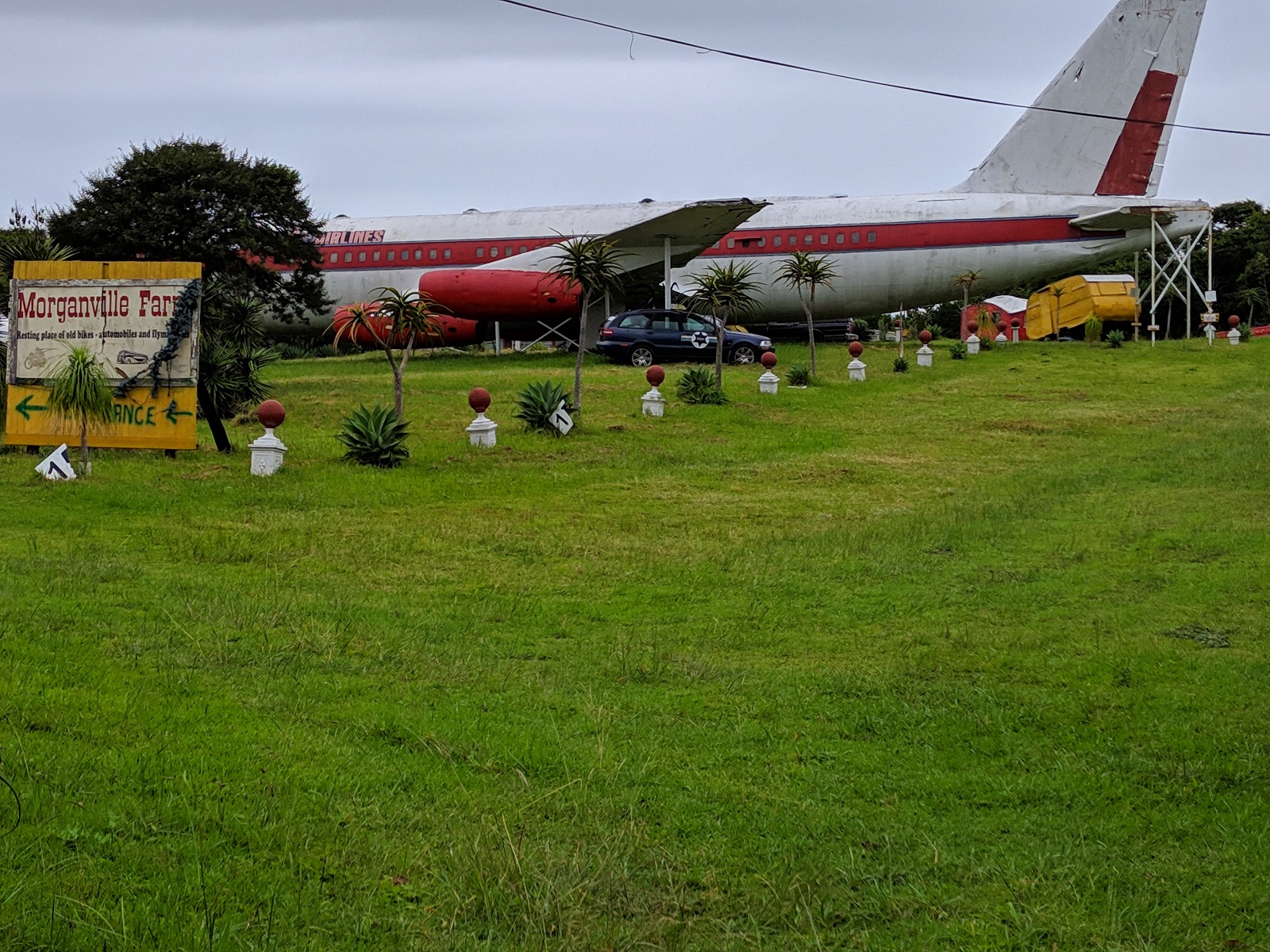 I thought I was seeing things when I saw a huge jet and London buses parked in the middle of nowhere. 
But there they were. 
Turns out that they are part of the Morganville/Kei Mouth Motorcycle Museum - their collection includes London buses, an old plane used by music stars of the 70s (including John Denver, The Rolling Stones, The Who and Barbara Streisand) and 650 motorcycles.
If that wasn't weird enough then consider the fact that the museum is proudly home to the world's leading collection of dentist's chairs! 
I always felt that some things about the Eastern Cape are straight out of the Twilight Zone... this is one of them.
Strangely, the museum never seems to open. Locals tell me the owner opens only on a few occasions for bikers' charity days ... or when rock stars come to visit their old plane. 
Bikers and dentists are sometimes allowed special access. If you are a biking dentist entrance is guaranteed ;-)
Fishing
I've tried fishing. I really have. But I have to admit that it's just not for me, not because I find it boring or tiring (it's actually quite relaxing), but because I never seem to catch anything :)
However, I do know that many people do in fact love fishing, so I must mention that the Kei River Mouth is a great spot to fish: you've rock, surf, deep sea and fly fishing (saltwater).

Your accommodation will be able to assist you with all the fishing help you need.
Horse Riding
I'm only a slightly better horse-rider than I am a fisherman, but this is an experience you will tell your grandkids about. Galloping across huge, empty beaches, across wild open spaces. It is worth learning to ride a horse just for this experience.
Exhilarating!
Wild freedom that makes you fall hopelessly in love with Africa. Visit Wild Coast Horse Riding Adventures for more.
Kei River Cruise
Take a relaxing trip up the Kei River. You will be amazed at the incredible vegetation and bird life along the shores. You might even be lucky enough to see a magnificent fish eagle.
You can find out more about the trip on the Fish Eagle Cruises Facebook page.
Map & Getting Here
I prefer to stay in Chintsa, at the Crawford Beach Lodge, and then take a day trip out to Morgan Bay & Kei River mouth. You will need a car though, so, if you are flying in, pick one up at East London airport. My advice is to book ahead with these guys  - that way you'll get the best deals.
If you do want to stay in the area then have a look at Trennery's Hotel-  they offer a great experience - especially for family holidays.
---
---
---