Ravello 
A Glimpse of Heaven
High above the azure seas lies Ravello. Rooftops touching the sky, while its lanes, gardens and villas offer a glimpse of heaven.
Ravello is a little off the main tourists routes of the Amalfi Coast, it takes a bit of an effort to get to Ravello. Make that effort and you are rewarded with a memory to treasure.
Good news! Because of the effort it takes getting here there are normally fewer tourists than in Amalfi or Positano. 
I normally arrive by bus from Amalfi, I prefer that to driving up by car. The narrow roads and tight corners are a little hair-raising for nervous drivers like me, but if you're up to it you can always hire a car to explore the area with more freedom. 
If you are driving yourself you'll need to park on the edge of town and walk in - no cars are allowed in Ravello itself. Parking is hard to find and very expensive.
Okay, back to the bus. You buy your ticket in the ticket office, which is situated in the piazza on the waterfront. You can't miss the office - it is right where all the buses are parked.
I buy a single ticket because I always walk back to Minori afterwards - truly a heavenly path.   
Once the bus leaves Amalfi you keep going up and up, round and round, up and up...
and then you've arrived. 
The view takes your breath away.
Once you manage to tear yourself away from the view, head through a short tunnel and you're in Ravello. 
A Story of Two Ravellos
Last time I visited I met the elderly mother of the groom.
The groom was from New York, middle-aged, wealthy. His bride to be from Eastern Europe was very young, and not so wealthy.
The mother told me the special day was costing a million dollars. They had a famous singer performing.
That's one Ravello. Not the Ravello I love.
The Ravello I love is simpler, more genuine.
It's the Ravello of Paolo. I met Paolo on one of my strolls through town. He sat on his little terrace, gazing over his lemon and olive groves, the sparkling sea far below. We greeted each other, started talking. 
Paolo's family has always lived here. He told me his mother had recently passed away. In her mid-nineties, he'd thought she'd never die. People seem to live forever here - many well over 100.
It was a huge shock to him when she passed. He wasn't even there.
He'd gone off looking for happiness, success, to "find" himself in far distant, cold and grey countries. 
He'd come back for the funeral, intending to leave again afterwards. 
He never did. He realized that what he'd been searching for was right here.
Paolo invited me in to his little family home, to meet his wife, children. I sipped a limoncello, gazed out at the view.
I knew then that Paolo was right.
If I was Paolo, I'd never leave either. This is the Ravello I love.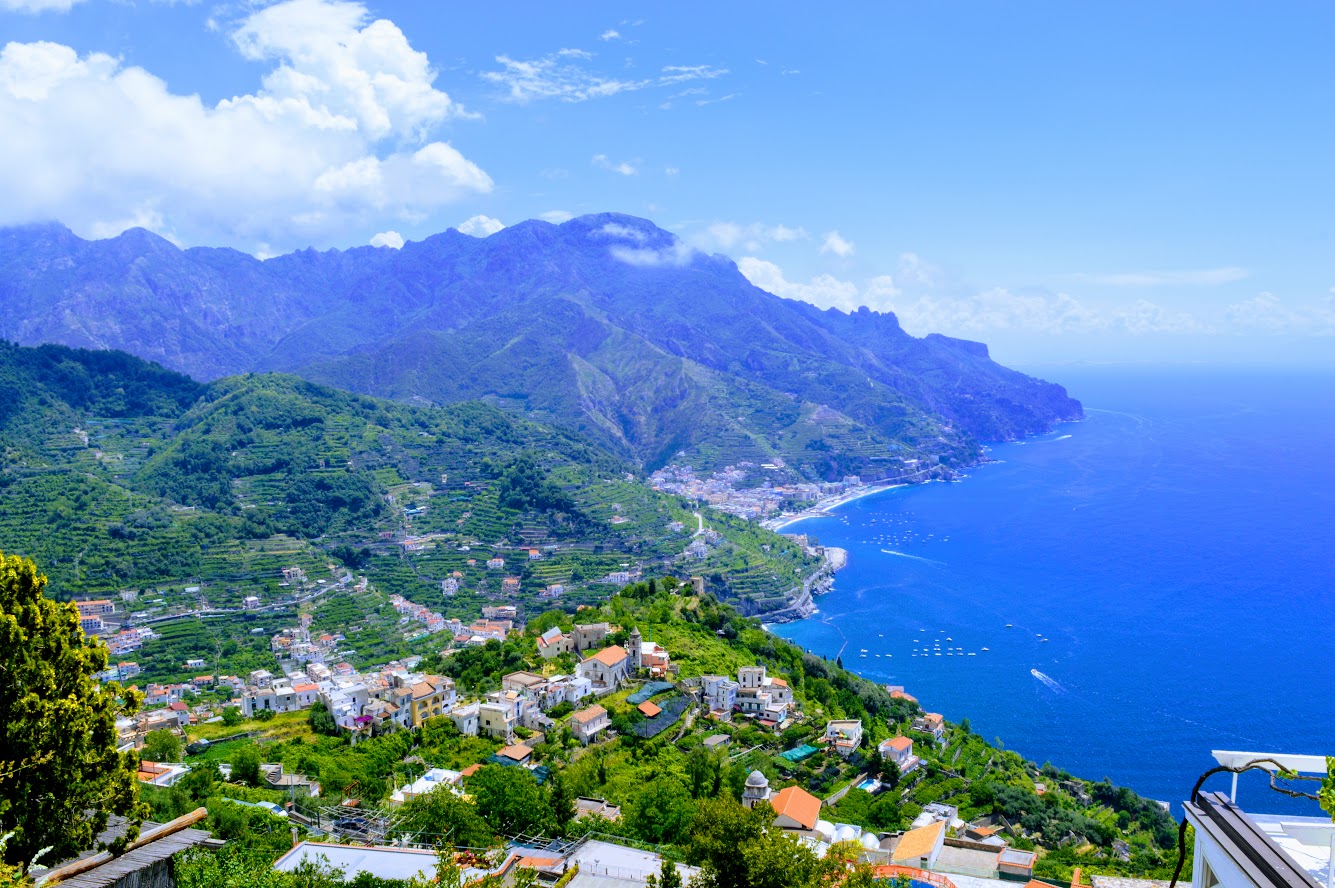 What to See
Ravello's been inspiring writers, poets and artists for centuries.  It's the sort of dreamy destination where you just want to wander slowly or sit quietly and watch the beauty unfold before your eyes.
You feel it is just wrong to rush around with a must-do-in-Ravello list, however, there are some things you really need to see here:
Villa Rufolo
Villa Rufolo is my favorite. It is a magnificent villa with a sad history. Built in the 13th century by Nicola Rufolo, it was confiscated not many years later by a regime that had spent itself into debt and was envious of the wealth of the Rufolo family.

Nicola's son was thrown into prison and his gr andson executed.
Great though the villa is, it is the gardens that are the main attraction.
They are outstanding.
The view of the coast from the gardens, with the two towers before you is world famous: it's the view in the photo at the top of the page.
Villa Cimbrone
Now a hotel, the gardens are still open to the public - a ticket costs 8 Euros.
Gore Vidal called the views from the garden's infinity terrace the most beautiful view in the world. Was he wrong? You come and see for yourself and then decide - photos don't do it justice. You NEED to see this view.
Churches
The Ravello Cathedral is hard to miss - it is right in the main piazza. There's a little museum with some lovely works of art inside and the bronze door of the cathedral is one of the last of its kind in Italy.
Also visit the church of San Giovanni del Toro and the 11th century Santa Maria a Gradillo.
The only thing I can't stand in Ravello is the dreadful Oscar Niemayer Auditorium. I refuse to attend concerts there simply because I'd like to see the horrible building removed. It looks like a bomb shelter or aircraft hangar... horrible, horrible, horrible.
Shopping
Ceramics, ceramics and more ceramics. Ravello is full of stores selling ceramics and some of them are actually excellent. The one I recommend is Ceramica d'Arte Carmela, which is just off the main piazza, right where the cathedral is in Via dei Ruffolo.
Over the last few years a number of small stores selling works by local artists have popped up with some really good works available. Browse the local lanes and you'll find them. Ravello is small and it is best to make your own discoveries.
Hotels in Ravello
If you can afford it the the Belmond Caruso is on another level entirely. 
For those, like me, who prefer simpler things and can only afford simpler things then you've still some truly lovely options. My pick of them is A Due Passi where the views are as good as those of the Belmond Caruso and cost a whole lot less.
Heaven's Way  - A Walk from Ravello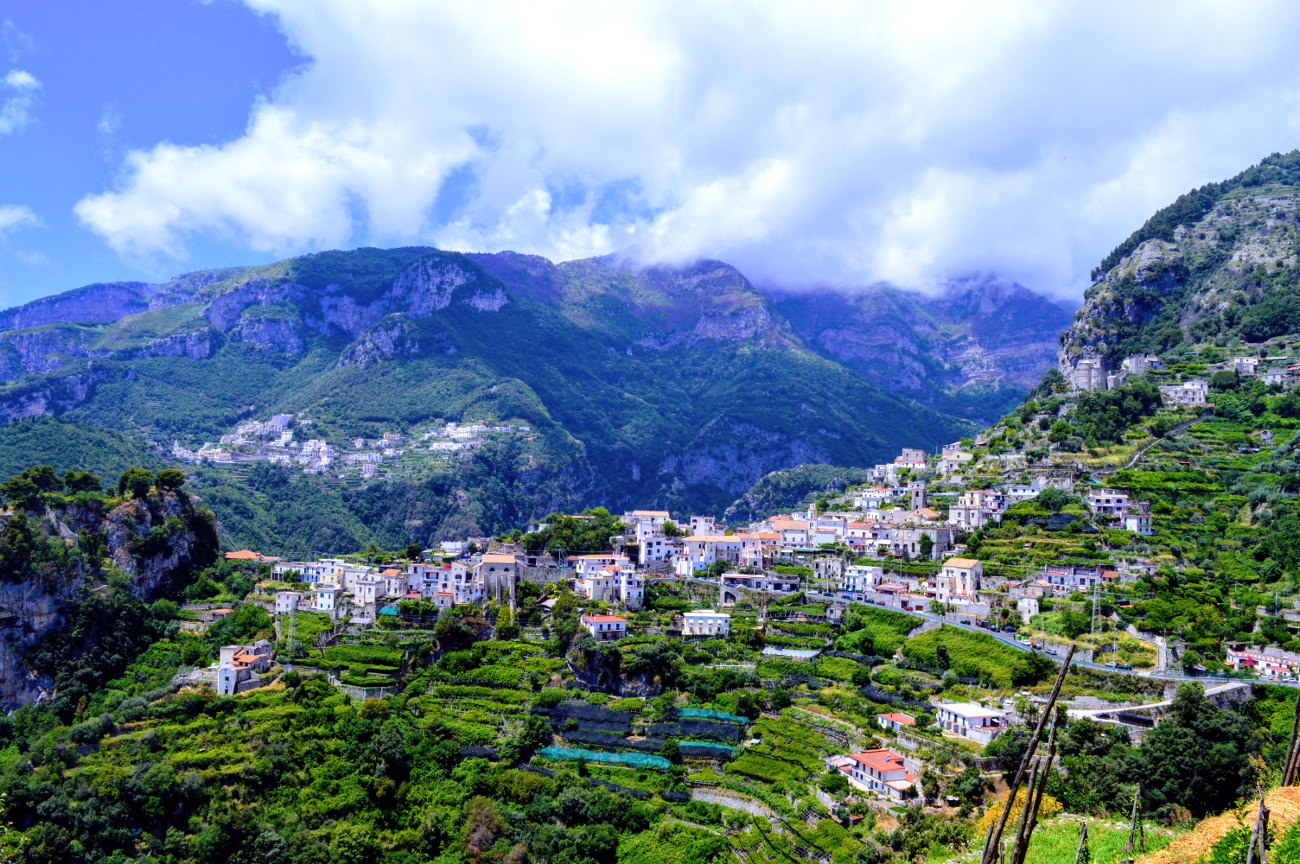 Do you remember that hymn that goes: all things bright and beautiful, the Lord God made them all? 
Well, walking along this pathway you sometimes feel that God took all those bright and beautiful things and laid them out in a slowly unfolding taste of heaven. Every step, every turn of the head reveals more magic, more glorious landscapes. Click here for all you need to know about the walk.
Eating in Ravello
Sadly, dining in Ravello is expensive. You can eat the same meal for a little over half the price in Minori.
I guess many restaurants charge for the stunning views they offer. But at least serve good food if you are charging so much and that isn't always the case with Ravello's restaurants.
Many are clearly focused on tourist menus and exploiting the influx of summer visitors. 
Don't worry though, there is one fabulous stand-out option. It is Il Flauto di Pan: great food, stunning views and the high prices worthy of what they offer.
Il Flauto di Pan is the restaurant of the Villa Cimbrone hotel but they allow you to eat there, even if you aren't a guest of the hotel. For a special occasion this is very hard to beat.
Map
Nearby Tours
---
---
---