Your guide to Positano on the Amalfi Coast
There's no place quite like Positano, or the entire Amalfi Coast in fact!
Just saying the word "Positano" takes me on an evocative trip of nostalgia ...  
The view of the pastel-hued houses clinging to the cliffside as I arrive on the ferry, the dome of the Chiesa di Santa Maria Assunta glistening in the warm spring sun ... and how could I forget the experience of watching the sun set over the mediterranean while enjoying a traditional Neapolitan pizza at the Villa TreVille. 
Before I get ahead of myself, back to reality for a moment. No doubt you'd also like to have some wonderful Amalfi experiences. So let's dive into this Positano Amalfi Coast guide so you can begin planning your adventure.
Why Positano?
Do I really need to answer this question?! :)
Positano is absolutely gorgeous. A truly breathtaking town along the Amalfi Coast that cannot be missed. Not only that, but it's a great base from which to explore this heavenly stretch of coastline.
Where to Stay
When it comes to finding the perfect place to stay in Positano on the Amalfi Coast, you'll be spoiled for choice with a range of excellent options accommodations. The great thing about Positano is that pretty much every hotel is in a great position.
Here are my personal recommendations that I find really capture the essence of this coastal paradise:
The Maison Liparlati is a charming boutique hotel with a lot of character. You definitely won't be disappointed. The staff were really attentive throughout my stay and my time there was truly memorable.
Another great option is the Villa TreVille, pictured at the top of this page. Perched on the cliffs overlooking the azure waters, Villa TreVille is a luxury haven of tranquility and exclusivity a short distance from the busy Positano. And overlooking the beaches of Positano, you can imagine the views that greeted me every day ... Let's just it's pretty clear why this area is referred to as the "Coast of the Gods" ... 
You can't go wrong with either of these two. But if you're looking for something a little different, there are quite a few other excellent options in Positano.
Where to Eat in Positano on the Amalfi Coast
Unless you're allergic to seafood, you'll most certainly want to try the local seafood pasta dishes while you're here. Positano, and the rest of the Amalfi Coast is a gastronomic paradise for anyone with an affinity for seafood. The best place to try the local cuisine is at a little family restaurant called Al Barilotto del Nonno (click for their site).

Sitting outside during a warm summer evening with the sea far below reflecting the day's last golden rays of light is one of the most unforgettable experiences you'll ever have. The ambiance is unforgettable and perfectly complements the delectable flavors that await you.

Shopping
Positano offers a vibrant shopping scene that might even lure the least enthusiastic of shoppers. But be warned, the prices aren't great. After all, Positano is a popular destination and many shopowners will up their prices just for the tourists. How kind right!🙃
That being said, there are also quite a few shops selling genuine traditional products of high quality. The wonderful handmade selection of ceramics at Ceramica Assunta come to mind. They've been crafting ceramics for nearly 70 years and have some special pieces available. You may find yourself irresistibly drawn to their lemon-themed creations, which add a touch of Mediterranean zest to any space. This is a must-visit if you're a fan of traditional ceramics.
And speaking of lemons, one thing this coast is world-famous for is ... Limoncello!
If you'd like to get yourself a bottle of this lemony goodness, you can buy the best you've ever tasted at Sapori e Profumi Di Positano in Via dei Mulini, 6. While you're here, be sure to take a leisurely stroll under the bougainvillea-covered ceiling and marvel at the array of art, custom jewelry, and clothing adorning the walls.

During spring and early summer, when the flowers are in full bloom, the purple and pink hues create a truly incredible atmosphere.
The other thing Positano is famous for are leather sandals and once-upon-a-time it was the fashion capital of the region with famous boutiques frequented by movie stars.
There are still a lot of sandal shops and boutiques; however, most of them are overpriced and touristy. 
Brunella in Via Pasitea, 72 is one of the better ones, but there are a few other gems scattered around - I'll let you discover them for yourself.
Otherwise, if you're visiting Maiori, which is a bit farther along the coast, try Sandali Tipici in Via Lungomare Amendola.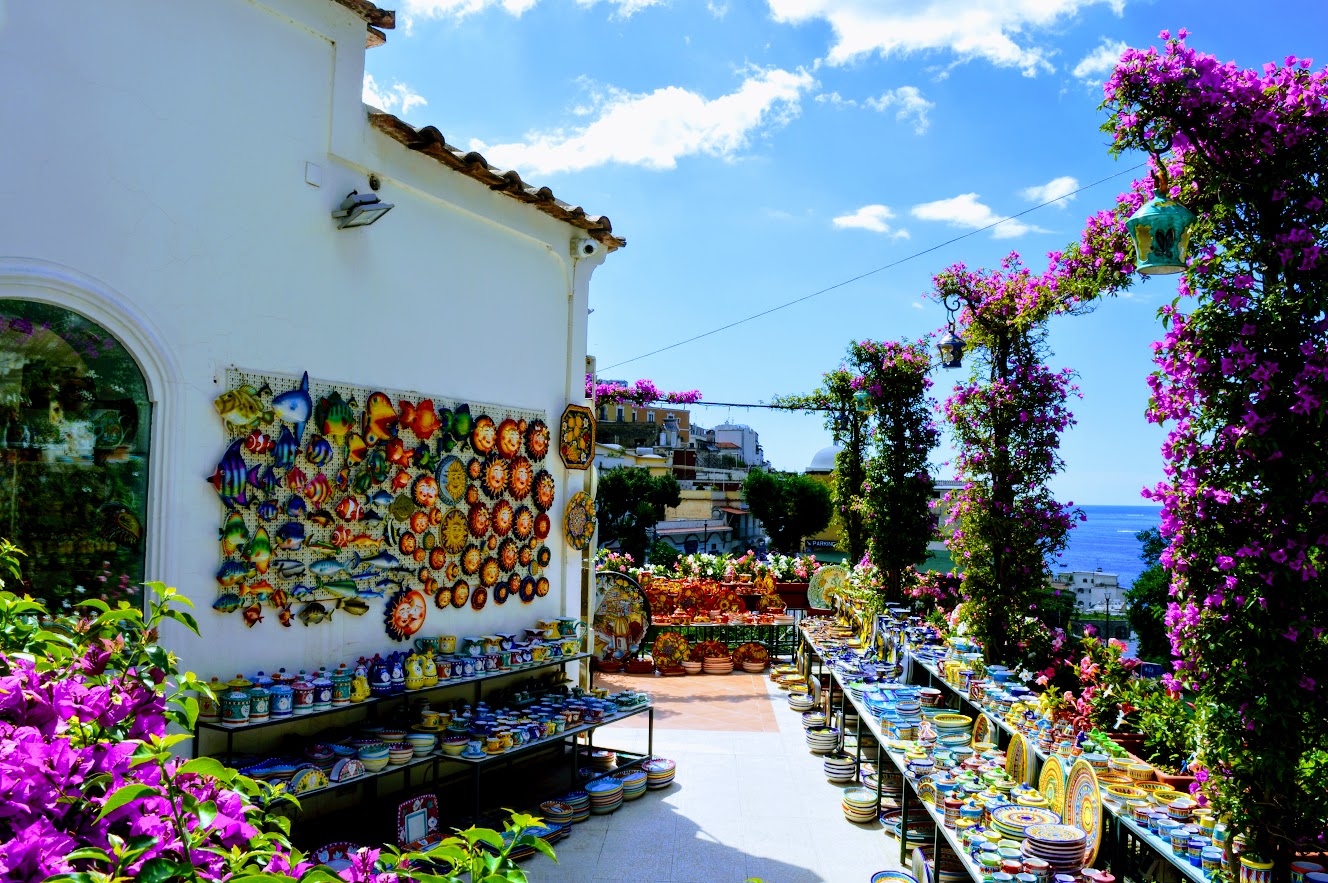 What to See
Picture houses painted in vibrant apricot, peach, and lemon hues, cascading down the hillside as if poised to tumble into the magnificent sea below. Actually, no need to picture it. You can see them right above, although the image doesn't do them justice.
It truly is a spectacular sight that will ignite your imagination and create lasting memories.
Another lovely sight is the Church of Santa Maria Assunta, with its colorful dome serving as a symbol of Positano's beauty and charm. Once you enter, you'll discover beautiful frescoes, intricate woodwork, and a serene atmosphere fills the air, inviting calmness and contemplation. 
Of course, there are a number of other attractions to see in Positano, but it would be difficult to squeeze them all into a short trip because there's just so much to see, do ... and eat along the Amalfi Coast! 
One thing that definitely shouldn't be missed and I think we can all agree on this, is a trip to Positano's beach.
The Beach
General rule of thumb: The sections with blue and orange umbrellas, like in the photo above, are accessible by payment only.
Most of the beach section is reserved for paying guests. And it's ridiculously expensive too, about 25 Euros a day. Even if you are happy to pay that amount, you'll have a hard time finding any available. It's pretty much all reserved in advance by hotels for their guests. 
But don't let that deter you. To the right of the umbrella section in the photo above, you'll see an umbrella and deckchair-free beach area.
And that, my beach-loving friends, is where you should head for a beachy time without paying a dime. 😅
If you really are into beaches though you'll want to read our guide to the best beaches on the Amalfi Coast. It is packed full of the most stunning beaches near Positano and along the rest of this coast.

Getting to Positano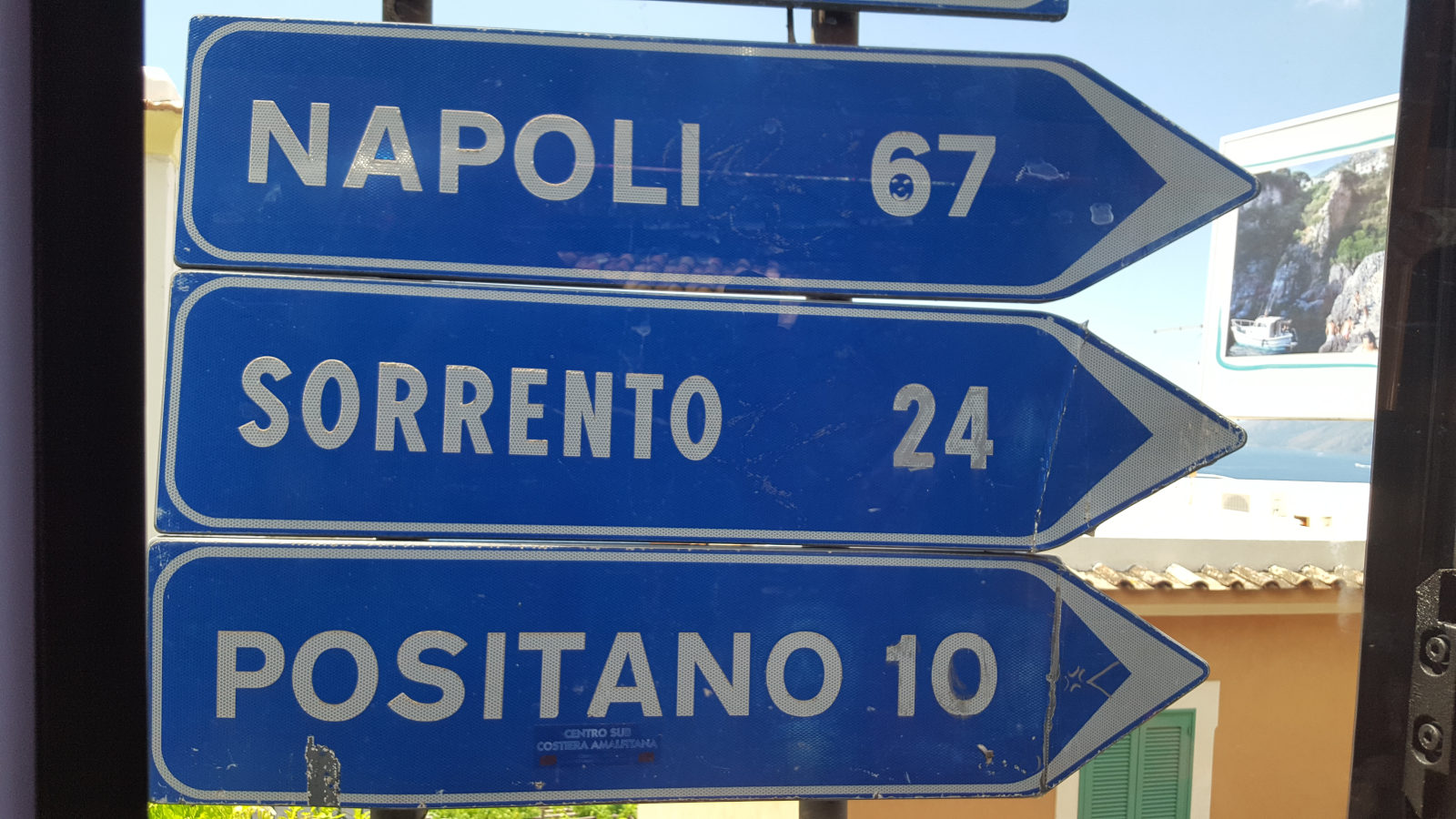 Transfers to the Amalfi Coast from most major cities and towns, including Rome and Naples, are available although car rental is a better option (click here for the latest rates).

A car combined with the occasional boat trip and lots of walking really is the best way to explore.
If you really can't face the thought of confronting Italian traffic then get a transfer (or the train to Sorrento or Salerno) and use the buses and boats to get about.
Just take note that once you've tried the buses you might wish you'd driven ... they are a little hair-raising. It's an unforgettable experience to fly around sharp bends, while the sea glitters bright blue far, far... very far below.
Apparently they have a fabulous safety record and they do go nearly everywhere on very frequent intervals. 
Frequently asked questions
The best time to visit Positano is during the months of May to September when the weather is warm and pleasant. Personally, I'd avoid the peak summer months of June through August, as the crowds can get pretty overwhelming. 
Yes, there are public beaches in Positano. The main beach in Positano is called Spiaggia Grande, which offers a mix of paid sections with umbrellas and free sections without amenities.
For the best views of Positano, head to the viewpoints at Monte Pertuso or the Path of the Gods. These vantage points provide stunning panoramic vistas of the town, the coastline, and the azure sea. You can also enjoy beautiful views from some of the cliffside hotels and restaurants in Positano.
Positano is a scenic seaside paradise in Italy. The sheer beauty of this place is something incredible.
There's no simple answer to this question. It depends on your preferences. Positano is known for its special ambiance and breathtaking views, while Amalfi offers a rich history and a more relaxed atmosphere. Decide based on the experience you seek for your coastal retreat.
And that brings our Positano guide to an end. Don't miss the opportunity to explore this captivating coastal town along Amalfi's coast of the gods.
Ready to book a trip of a lifetime? Check out the best accommodation options here. 
A Day in Positano
---
---
---