Our Hawaii section is run by our Hawaii expert Stephanie Amieva. 
The 4 Classic Oahu Beaches
There are a lot of beaches in Hawaii but a select few you absolutely must visit while here. I call these the "classics". 
Known for their beauty, legendary status in Hollywood folklore or their ability to put that visual stamp on your photos - the one that says "I was there!".
It was hard to make the list this short but you can't go wrong by visiting any of these four beaches.

Waikiki
Location: South Shore
Waikiki is THE most recognizable beach on Oahu and arguably in all of Hawaii.
It's part of the opening montage sequence in Hawaii 5-0 with the Rainbow Tower at the Hilton Hawaiian Village and is where Elvis worked his magic at a beachside bar in Blue Hawaii. The 91 year old pink Royal Hawaiian Hotel is the diamond in the crown while Diamond Head crater frames the Waikiki landscape at its eastern edge.
Beach boys give surf lessons during the day, hula girls dance at night and modern-day versions of Don Ho croon out the latest hits while the sun sets. Tourists sip pina coladas with little umbrellas while marveling at actually being in Hawaii.
Imagine yourself in the midst of all of this.

All of the hard work, hours of travel and lifetime of dreaming finally culminates in special moments like these.

Living the Hawaiian dream - long, slow walks at sunset, lying beach side in a cabana or cooling off in the warm, crystal clear waters.
You, too can experience this.

Actually, Waikiki beach is the easiest experience to have if you're staying in Waikiki because all you have to do is walk outside.

It doesn't matter if you're staying at an oceanfront hotel or staying somewhere closer to the Ala Wai canal this beach is accessible to everyone within a 1 to 10 minute walk.

Your fantasies can come true and it is really all that you have dreamed of and more.

2. Kailua and Lanikai
Location: East Side
Who can mistake the twin Mokulua islands off the coast of the Kailua and Lanikai areas for being anywhere else but in Hawaii?

If you imagine deep, powdery, white sand that goes on for as far as the eye can see while hugging a 1.5 mile crescent-shaped bay then you are picturing Kailua.
Fronted only by beach bungalows, villas and estates Kailua is truly an ideal getaway offering the best of both worlds in the sense that it truly feels like an island escape yet is only 30 minutes to Honolulu.
Hollywood legends like John Travolta and Michelle Pfeiffer have called Lanikai their home away from home and own property here. Former President Barack Obama also chose the area for his annual holiday while in office.
There are no high-rises and the on-shore breezes have made it popular for windsurfing but will keep you cool while sunbathing.
It's clean and home to many locally-owned and operated businesses such as Cinnamon's for breakfast and Island Snow Hawaii for shave ice.
I think that Kailua beach and Lanikai beach are two of the most beautiful beaches in Hawaii and believe that you will think so too.
3. Sunset Beach, Pipeline and Waimea Bay
Location: North Shore
If you want to visit the worldwide mecca of surfing then a trip to the north shore is must.

If you happen to be there during the fall, especially the winter then you are in for a big treat because this is when the ocean comes alive and produces the big waves that it's known for.

Waimea Bay is home to "The Eddie" contest when the conditions are just right and has been known to produce waves as high as 60 feet.

It is quite a sight to behold watching these men literally ride mountains.

During the summertime Waimea Bay's large crescent-shaped beach is famous for people jumping off the cliff at its far left end.

Daredevils climb up and jump 25 ft below. It's like its own mini-island paradise in that nook and cranny.

Families lay out and enjoy swimming in some of the cleanest water on the island while the lifeguards keep watch over everyone.

If you'd like to meet and greet your very own "Baywatch" hunk this is the place to do it.

An extra bonus is to drive down the road on the opposite side of the highway to Waimea Valley.

Run by the Audobon Society there is a 45 ft waterfall that is 0.7 miles at the end of a curvy path through a rainforest.

Further up the road from Waimea Bay is Sunset Beach. I've included it in this listing because the name says it all.

Walk hand in hand with your love into the distance with only your footsteps behind you. Continue until you find the perfect moment that you've been dreaming of to celebrate your love.

You can also take that perfect family photo with the setting sun on the horizon or with the sun gleaming just so on the surface of the water.

It's hard to go wrong here.

Another thing that you will like about Sunset Beach is that it's easy to park here and has restrooms available.

Walk down the beach (or on the bike path) towards Pipeline which is arguably the most famous surf break on the north shore.

Known for sharp waves breaking over shallow water thus creating nearly impossible barrels - to try to escape from this is a real treat to watch.
It breaks very close to the shoreline so you'll be able to capture your own Surfer Magazine ready photos. If you're more in the mood for watching action than reveling in your own moment on the beach choose Pipeline.
4. Lagoons at Ko'Olina
Location: West Side
If you're staying at the Disney Aulani, Four Seasons or Marriott Ko'Olina Beach Club you must visit the lagoons at Ko'Olina. I suggest visiting the lagoons even if staying in Waikiki because they're gorgeous.
The perfect time to visit them is at sunset when the west side location makes them ideal for watching the sun set.
It will literally feel as if the big, orange ball of the sun is descending right before you. There are no mountains or buildings in your way and little to no noise pollution from traffic.
Ko'Olina is its own enclosed resort area making it feel very peaceful and zen.
Choose to stop here after enjoying a dolphin snorkeling cruise or before visiting the Paradise Cove Luau.
There are 4 circular lagoons surrounded by volcanic black rocks which create ideal "swimming pools" in which to swim in if going into the open ocean terrifies you.
They're very safe and are family-friendly.
The last lagoon is my favorite because it is set in a park-like setting and is great for people-watching, a romantic stroll or just watching the keikis (kids) run and splash about care-free. Parking is also easier down at this end.
About the Writer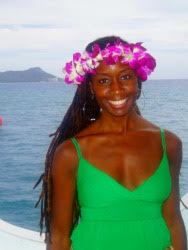 Stephanie Amieva is a former travel professional specializing in the Hawaiian Islands, most notably Oahu.
After living and working in the industry for the better part of 13 years she met and married her husband Pedro and is now an active duty military spouse. 
Even though her mailing address varies her home at heart is still in Hawaii and she visits whenever she can. 
---
---
---