Our Hawaii section is run by our Hawaii expert Stephanie Amieva. 
Where to Watch Surfing in Oahu
One of the top things to see and experience while on your dream Hawaiian vacation is to watch surfers. Imagine what it would be like to watch world-class surfers ride mountains or get barreled in perfect tubes.
Nowhere else in the US can you sit on a warm, sandy beach while watching a simultaneous performance of sportmanship and mother nature right before your eyes.
Even if you know nothing about surfing the energy and exhilaration of the sport will move you. When someone successfully catches a wave you won't be able to stop yourself from cheering.
This article is intended to give you ideas on where to watch the action while enjoying the beach at the same time. They are not suggestions of where to try surfing because these locations are for experts only.
Grab your camera, pack snacks and read on for some ideas.
North Shore
The north shore is THE place on Oahu, or in the world really, to watch surfing. It is the epicenter of the sport and is where the world champion is crowned every year in December.

Just about every Hollywood movie features these well-known breaks and famous surfers such as Kelly Slater, John John Florence and Bethany Hamilton are usually here at this time. 

All of the well-known brands such as Billabong and Roxy line the beaches ESPN style with their banners while the sportscasters interpret what is going on. 
You too can be here during this time to watch history being made before your eyes as a new world champion and Triple Crown winner are chosen for the year. 
Dreams are made and broken on these beaches and emotions run high. It is truly a special time to be on the north shore.
If you can't make it in December during the competitions the winter time is still an incredible time to visit and is less crowded. 
The ocean comes alive and one of the features that makes the north shore unique is that you can watch the action almost RIGHT before your eyes. 
The beach is the amphitheater, the ocean is the stage and the surfers are the performers. It is truly the best show. 
What's more, the famous "7 mile miracle" connects together for the most part and you can walk from one beach to another to see different breaks. 
Technically it runs all the way from Haleiwa Beach Park to Sunset Beach but you can enjoy much of it on foot between Sunset Beach and Pipeline.
The beaches are long, wide, soft, powdery and clean. Parking is nearby as well as restrooms and showers. 
There are no hotels, only beachfront houses and bungalows. 
Here, you'll get a true sense of the laid-back beach surfer lifestyle of the north shore. 
Waimea
Known for having the biggest, most powerful waves on the north shore and is host to "The Eddie" surf contest when the conditions are just right.

Pipeline
Home to the steepest, fastest barrels on the north shore and extremely dangerous, sharp coral just beneath its very shallow surface.
Make a wrong move here and it could mean the difference between life and death. 
All of these factors combine to make watching waves at Pipeline quite the spectacle. The spectator's perspective is fantastic - you can get SO CLOSE to watching the action.

Even if you know nothing about surfing you'll be clutching your proverbial pearls or covering your wide open mouth as you pray that the person riding safely escapes the barrel and avoids what could surely be disaster.

Sunset
Sunset Beach is also part of the famous Triple Crown of Surfing competition and is great for watching the action whether you're there for the contests or not. 
Here the waves are big and strong and watching the pros just battle the currents while trying to get out is something to behold in and of itself.
The ocean seems to be a monster or a video game with all sorts of obstacles to overcome before the "player" is allowed to advance. 
The waves rise up as giant mountains one after another and watching the amount of skill and athleticism required to maintain control and balance is truly a marvel of mother nature.
What's best about all of this is the large, beautiful beach from which to watch all of this. It is wide and long with clean, white, deep powdery sand. 
You can walk from Sunset to Pipeline in order to enjoy watching the surfers and enjoy a nice walk at the same time. Picture strolling hand in hand with loved ones or by yourself while taking the beauty in.
If you're lucky enough to be staying at Turtle Bay Resort imagine watching surfers catching big waves on the point while looking out of your window or from the comfort of a lounge chair while sipping a drink by the pool.
South Shore
Queens Beach
On the south shore during the summertime the waves come alive. Queen's Beach is a classic and used to be the homebreak of the famous Duke Kahanamoku. 
Modern-day beachboys still call this break home.
Watch locals catching waves 100-200 yards in the distance while you safely watch from the calmer waters inside or while floating inside of an inflatable raft in your hotel pool.
You'll be able to sit on Waikiki beach near the Moana Surfrider Hotel and watch or you can walk west along the sand down towards the Hilton Hawaiian Village to see surfers catching waves.
Walk out on the point to the covered gazebo to the left of Queen's Beach across from the Honolulu Zoo. 
Here, you can watch kids jumping off the wall into the splashing waves just below. You'll feel like you're about to catch a wave yourself as it approaches.
This spot is popular with body-boarders. Somehow they manage to always avoid crashing into the rock wall even though it looks they'll hit it.
What's more you can also get a sense of local life as the kids run and play. It's very likely that someone will be playing the ukulele while all of this is going on.
To the left of this wall is a little beach that's very enjoyable to lie on and then head into the water to cool yourself off. 
Again, just off in the distance you'll see the locals catching waves on their bellies yet riding them effortlessly like dancers in a play.
East Side
Sandy Beach
Sandy Beach on the East Side is my favorite place to watch body boarders surf waves. It is well-known for a very steep wave that shoots straight up just mere feet from the shore and then thunders down in a crash with amazing force. 
Imagine just sitting or standing mere feet away while this all unfolds before you. 
It's captivating and wild to watch and is like having an IMAX theater moment happening live all around you.
One thing that you'll like about making an excursion to watch the action at Sandy's is that there are photo-worthy moments to enjoy along the way. 
You'll be able to stop at Hanauma Bay (not Tuesdays) to take a photo from their lookout before continuing along the rocky-lined cliff side road to take photos of the Halona Blowhole.
Located just above Sandy's you'll be able to capture the water erupting like a volcano from the geyser-like formations in the rocks. 
Additionally, you'll be able to enjoy the essence of the From Here to Eternity beach made famous in the namesake movie just below on the right. One parking lot links these 2 highlights.

There is also a parking lot at Sandy's where you can simultaneously enjoy the action of the daredevils while getting a taste of local life.

People go here to fly their kites and enjoy the day with their families. Surfers also ride waves to the left of Sandy's if the conditions are just right. 

After taking all of this in either continue driving around the island or turn around and have lunch in Hawaii Kai about 15 minutes away. Teddy's Bigger Burgers has the best burgers and milkshakes on the island in my opinion. 

Another option is to have Mexican food at Mexico Fiesta which sits right on the canal in Hawaii Kai. It's very scenic with Koko Head in the foreground and waterfront homes lining the edge.

Kayakers and boaters cruise by while you eat and music plays in the background while the breeze gently caresses your cheeks. 

Yes, it is really this perfect. It's something that I never got tired of doing and neither will you.

West Side
Makaha
Makaha is the birthplace of Hawaiian surfing on the island one could say. Many legends such as Rell Sun, and the Keaulana brothers were born and bred here. 

Every year the legendary Buffalo Big Board Surfing Classic contest is held here and modern-day pros such as Lessa Quizon and Sunny Garcia got their starts here. 

There's no fancy, big-money contests or fancy this or that but if you want to see where real dues are paid without the glitz and glamour of the surf magazines taking photos come here.
Located at the near western-most tip of the island this is a tight-knight community where families have been surfing for generations. People go fishing old-school-style by standing on slippery volcanic rocks and catching fish with ease. 

You'll see everyone from little kids to uncles and aunties doing this and everyone seems to be part fish when you watch them move through the water.
Here you'll also find big, warm smiles and families camped out on the beach with pop-up tents to block the sun. While they grill friends and loved ones will go out to catch waves. 
The beach has a distinctive rock just outside to the side which becomes a fixed disaster to avoid while riding giants.
If you want to get a true sense of Hawaiian sportsmanship combined with a big dose of Aloha this is the perfect place to experience it. 
My only advice is to smile and be welcoming and respectful yourself. Do this and you'll receive plenty of the same. 
About the Writer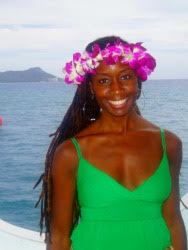 Stephanie Amieva is a former travel professional specializing in the Hawaiian Islands, most notably Oahu.
After living and working in the industry for the better part of 13 years she met and married her husband Pedro and is now an active duty military spouse. 
Even though her mailing address varies her home at heart is still in Hawaii and she visits whenever she can. 
---
---
---