Our Hawaii section is run by our Hawaii expert Stephanie Amieva. 
Finding Empty Beaches on Oahu
There are many empty beaches on Oahu, beaches where you can get away from it all and from everybody. Despite there being almost 1,000,000 people on the island at any given time it is still possible to find a place where it's only you and your footprints in the sand. 
You'll need a car for all of these and a taxi for one but all of them are beautiful escapes.

North Shore
Waialua
Waialua is located on the north shore but not on the part of the north shore that normally comes to mind. Most people veer through Haleiwa town and onwards towards the famous surf breaks such as Waimea Bay and Pipeline. 
However, if you go in the opposite direction then, to the left of Haleiwa town, you'll come across the little enclave of Waialua. There are no hotels here but only scattered vacation rentals.
One would not even know that there was a pretty, long, quiet beach here - one that is very beautiful and peaceful. Lined only by beach homes and a few low-rise condo buildings the pace and the vibe are perfect for those who truly want to escape. 
The beach is almost always semi-empty with only a few locals and maybe a few vacationing tourists laying lazily upon the sand. 
You might see a mom reading and sunbathing while her baby naps and the other kid builds a sandcastle. 
More than likely you'll see 1 or 2 people or no one which makes it even better.
It's empty enough to think to yourself that THIS is the Hawaii that I came here to experience.
What's more, you're only located about 5-10 minutes away from Haleiwa town where all of the restaurants, shopping and "action" of the north shore is but it feels like miles away from all of the hoopla.
There's no street traffic noise. Gentle breezes blow against your face while you enjoy the near-constant sun and warm, clear, clean water.
Waialua beach is definitely one of the best kept secrets on the island. 
Most people don't know it's there, have never heard of it, don't drive that way and it can't be seen from the main road.
These characteristics help keep it nice, quiet and enjoyable.
Mokuleia
Further down a road that runs parallel to the main road in Waialua is Mokuleia beach. It's on the way to Kaena - you pass the Hawaii Polo Club on the right and Dillingham Airfield on the left.
You'll find the beach just past the last strip of beach houses and it can be seen from the road. Technically, there's a little parking lot with beach showers and restrooms but if you've got an off-road vehicle you can pull over wherever it suits you.
If you REALLY want to get away from everybody and everything then this is a great option.

I remember that this is the place where I would go to think and sort things out in my head when I lived on the north shore. 

I would go to the rocky "parking lot" at the very end where the road runs out and just park. 

Something about the strong onshore winds, endless stretch of sand and coastline to the ends of the earth and the Waianae mountain range behind me would just put all things into perspective. 

From a lighter perspective it's also a great place to walk endlessly, sunbathe nude - so I've heard - or just lie like broccoli. Whatever suits you. 

The beauty is incredible.
Trivia piece: Many famous scenes from the TV series Lost were filmed here. It's where the fuselage from the plane crashed and the survivors crawled out and tried to make sense of what had just happened to them and what to do next.  Click to read more about this and other movie beaches.

Malaekahana
Driving past Turtle Bay Resort and the shrimp farms, but before arriving at the Polynesian Cultural Center, is one of great hidden beaches and one of the best empty beaches of Oahu.
A beach that most people visiting Oahu know nothing about - it's Malaekahana Beach.
Malaekahana Beach Campground is at the far left or Sunset Beach end and Malaekahana State Recreation Area is at the right or Polynesian Cultural Center end. Drive into the state park area and park in one of the lots closest to the water.
This beach is lined by pine trees so there's lots of pine needles in the sand near the trees. Beyond that the sand quality is great and there's a 99.9% chance that NO ONE will be there except for maybe a lone surfer or 2.
The onshore winds provide nice air conditioning while sunbathing and it definitely feels like a hidden oasis over here. 

Along this section of the beach there are no houses or buildings but just the woods. Walk further down the beach and you'll eventually hit a section of beachfront villas. 

There are not many of them, perhaps 10 or so and they're mostly vacation homes owned by wealthy local families who use them as retreats on the weekends or for holidays. 

I know this because I used to be a live-in concierge/host for one of them. I lived in a little beach shack in the back. This area is kind of what I imagine Malibu to be like but with a lot more elbow room between the homes. Everybody has at least an acre I'd say.

All of the beaches are public in Hawaii so anyone can spend time on them. 

Personally, I think that this section of beach is more desirable because there are some signs of civilization but if you are brave and want to feel like you are on a deserted island then the state park section is for you. 

The pluses of Malaekahana are that it's beautiful, extremely secluded, clean and cool. If you ever rent a beach house here it will be some of the best sleep that you've ever had in your life.

The minuses are that much of the shoreline by the houses is rocky except for one area. Bring little reef shoes when you're ready to go into the water to cool off.

If you're interested in "glamping" and/or on a budget then the Malaekahana Beach Campground offers different camping options.

East Side
Waimanalo
Waimanalo is only empty during the week and you'll increase the amount of peace and quiet you have if you park and enter down by the beachfront homes further away from the main parking lot. 

Oahu is known for its beach access aisles between homes so use one of these to access the quieter sections of the beach.

They're easy to miss and may just look like a normal corridor between a couple of house but they're actually official thoroughfares to the beach. 
They may or may not be marked with wording such as "beach access", "public access" or similar. 
Anyways, Waimanalo is beautiful, swimmer and family-friendly and has really white, powdery sand. It's perimeter is lined by pine trees.
It's popular for wedding photos and is probably the Hawaiian beach that you've dreaming of. 

If I had to imagine a cross between a beach in the Caribbean, with all of the shades of blue in the water, mixed with the beauty of Hawaii , this would be it. 

The community is sleepy and is host to ranches and taro farmland. People whose families have for generations been living here and still call this area home.
While vacation rentals have become part of the mix, tourism and locals seem to have blended beautifully and seamlessly. Neither seems to mind the other.
The area still has its charm and visitors are able to enjoy the area without worry. Tourism hasn't "ruined" Waimanalo.
It has "just enough" basic conveniences but Hawaii Kai is about a 15-20 minute drive away for more dining and shopping options.
Makapu'u
Makapu'u beach is sandwiched between Waimanalo beach and Sandy beach, both of which are about 10-15 minutes from Hanauma Bay.
If you decide to stop at the Makapuu Lighthouse lookout you will see Makapuu beach just down below. Goat Island is the notable landmark island sitting across the water from the beach.
I like it because it's a tucked away haven with the lightest, whitest, thick, powdery sand. It has little green bushes that give it added local character and is flanked by tall, skinny coconut trees. 
The mountainside also hugs it giving it a cozy, intimate, beach hideaway feel.
It's popular with boogie-boarders and some surfers. The water is very clean here but the currents can be strong. Fortunately, it's lifeguard-protected so you can check in to see what the conditions are and where it's safest to cool off or swim. 
The water is very clean and refreshing. You'll definitely feel alive after emerging because it has strength, energy and mana (spirit) to it.
There's a little parking lot and bathrooms.
It can be hard to miss but Sea Life Park just up the road a few hundred feet on the opposite side of the road is a landmark you can use.
I used to go here when I wanted to get out of town to experience some raw, Hawaiian beauty without traveling too far. Between the beautiful, winding coastal road between here and Hawaii Kai plus resting on the beach this will put you in great mood. 
If you don't want to do a lot of driving but want a nice break from Waikiki and all the people in Honolulu I recommend a short 35-40 minute trip to Makapu'u. 
Most people drive right by not realizing that that little beach is there. 
You'll see some tourists ABOVE taking photos from the scenic lookout but they don't know how to get down there or if it's possible.
It's almost never crowded and there's plenty of room to spread out when some people do show up.

South Shore
Diamond Head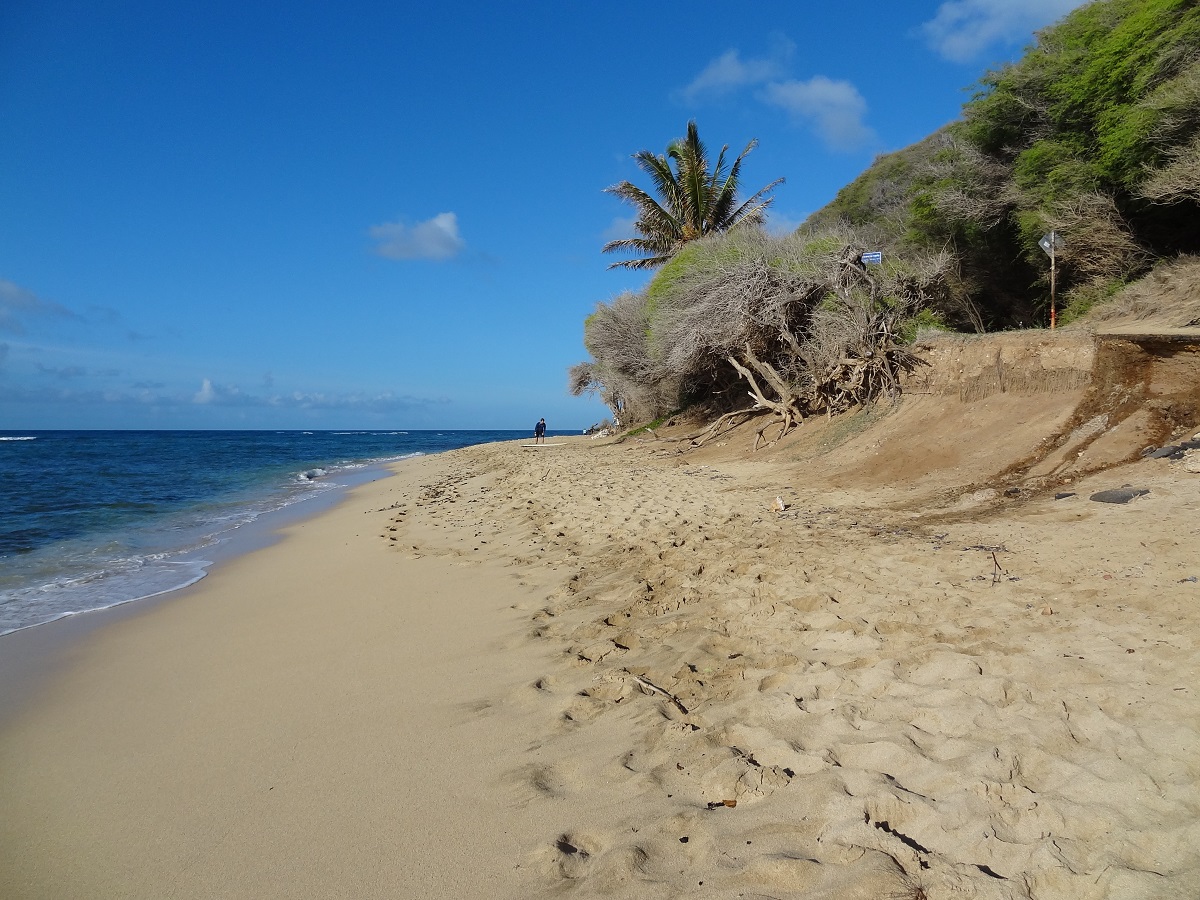 This is the easiest semi-empty beach to get to from Waikiki. You can drive or take a taxi. It's a little too far to walk to from the hotels.
Diamond Head beach is at the base of Diamond Head crater and is a popular spot for south shore surfers. 
Fortunately, most of the people are in the water leaving the beach empty.
There's no hotels around here because you're at the base of the volcano. 
On either side of this area are oceanfront homes on the hillside but in the immediate area it's just you and mother nature.
There is a very popular scenic look-out spot above but to the right of there is a zig-zag path with handrails that goes down the side of the hill ending at the beach. 
Down below is a treat that can't even be seen from above. The beach is hugged by the volcanic rock hillside and the ocean before you.
There will be people sunbathing but it doesn't feel like many because it's wide enough to spread out and have your own little area.There is a beach shower that the surfers use when they come in to rinse off but that's about it. 
It's so quiet that even Hawaiian monk seals find refuge here and decide to take naps. They'll use the farther ends of the beach to do so.
Take little reef booties for cooling off however because it's rocky beneath the surface of the water where it's shallow.
When you're done it'll only take about 5 minutes to be back in Waikiki.
West Side
Yokohama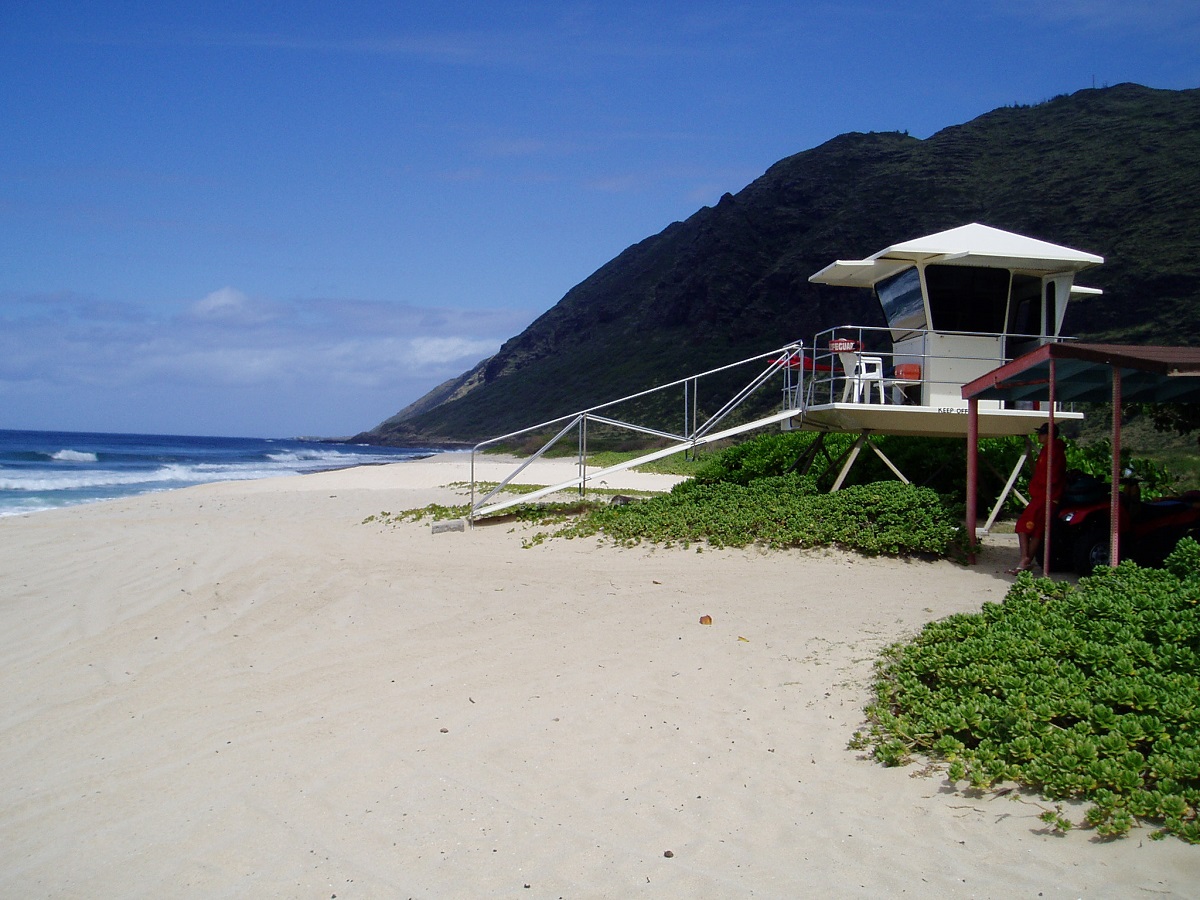 Yokohama is at the end of the road on the west side. This is where you'll park if you decide to hike to Kaena Point. 
Kaena Point joins both the west side of the island with the north shore of the island. 
The beach feels like its miles long, pure and untouched. It has a wild, end of the earth feel to it. 
There's no homes near here and it's just the Waianae mountains on the other side of the road.
Other than the 2 lane paved road here it seems to be in very much the original state in which it was naturally created.
During the wintertime the waves here rival the size, beauty and danger of the north shore. Summer and shoulder seasons are much calmer but check with the lifeguards who are on duty.
You won't find many people on the beach but there are people around. The hike to Kaena Point is nearby and popular but the entrance to the start of the hike won't disturb your peace on the beach.
Arguably this is some of the cleanest water on the island due to the absence of housing, construction and commercialism in this area. 
If staying in the Ko'Olina area it will take less than an hour to drive there.
You can't help but be blown away by it's beauty.
Want to see and experience what wild, Hawaiian ocean beauty and beaches are like? Then Yokohama is a great place to do so. 
About the Writer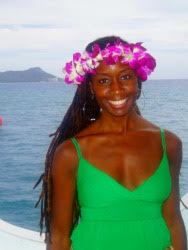 Stephanie Amieva is a former travel professional specializing in the Hawaiian Islands, most notably Oahu.
After living and working in the industry for the better part of 13 years she met and married her husband Pedro and is now an active duty military spouse. 
Even though her mailing address varies her home at heart is still in Hawaii and she visits whenever she can. 
---
---
---