Our Hawaii section is run by our Hawaii expert Stephanie Amieva. 
Snorkeling on Oahu -
Your Chance to See a Humuhumunukunukuapua'a
Ever dreamed of gliding through crystal clear turquoise waters while schools of tiger fish or yellow tangs glide by?

Wish that you could get a picture of you or your kids throwing a shaka next to a turtle who smiles right back at you?
Have you ever heard of the humuhumunukunukuapua'a? 
Can you say it? If not, you can call it the humuhumu or reef triggerfish for short. 
Where do you go to experience all this?

Well, the 2 most predictable, consistent places to go snorkeling on Oahu are Hanauma Bay on the south shore and Shark's Cove on the north shore (in the summer only). 
These two locations have world-class snorkeling and you are almost always guaranteed to see plenty of fish. Turtle sightings are highly likely too. Here's what you need to know...
Hanauma Bay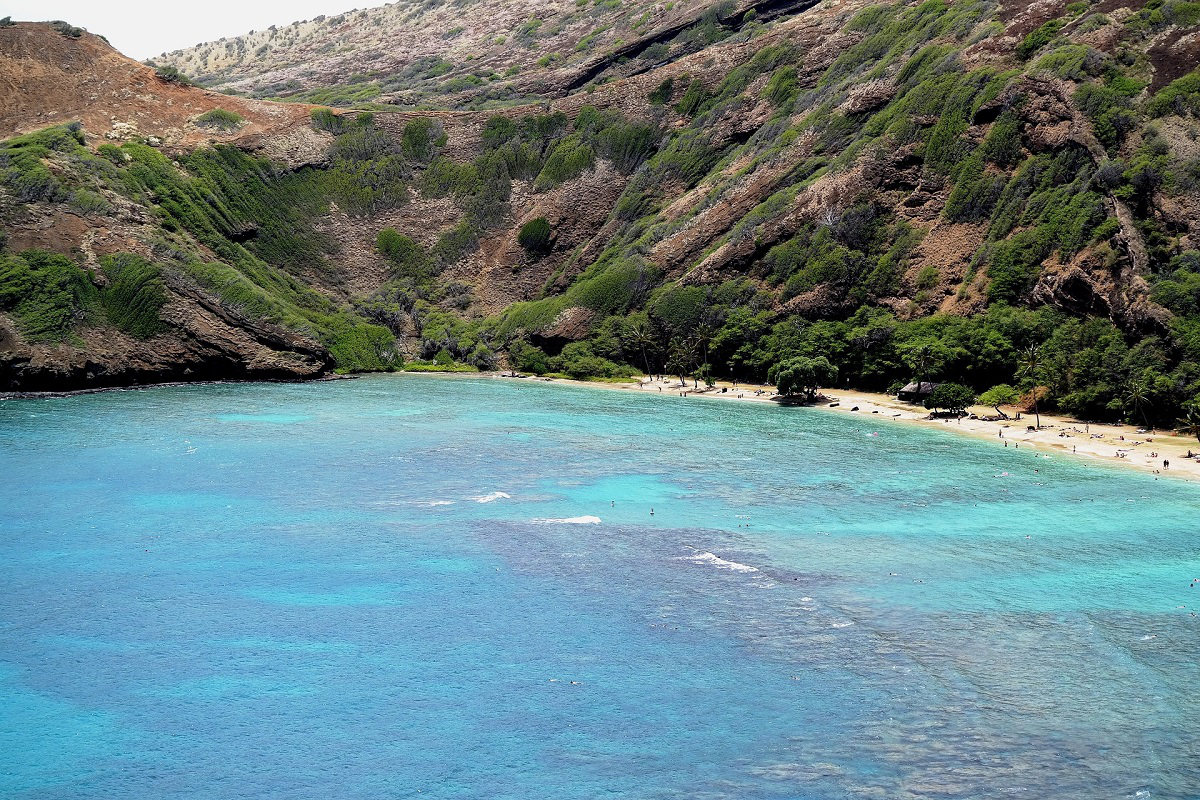 Closed on Mondays and Tuesdays, Hanauma Bay is the closest and most easily accessible if staying in Waikiki. Bus transportation will take you there in about 45 minutes or a car ride will take about 25-35 minutes depending on the time of day.
I recommend going early because that's when the conditions are most beautiful and it is the least crowded. The parking lot is not very big so you will also guarantee yourself a parking spot - cost is $3. They open at 6:45 am in the summers and close at 4:00 pm. 
Round trip shuttles were available but have now been stopped to prevent overuse.
The cost to enter is $25 but kids under 12 and active duty military are free. You'll need to make reservations - visit the Hanauma Bay State Park website for details and latest info.
Also down at the beach there are lifeguards and snorkel equipment available to rent and life jackets if you do not have your own. Up at the visitors center are concessions and souvenirs available for purchase as well. They also have restrooms, lockers and beach showers.
Logistics aside Hanauma Bay is probably the most famous snorkeling beach on Oahu. 
It is a beautiful, crescent-shaped beach with inner and outer reefs that offer the best snorkeling available without having to go out on a boat.

Imagine swimming side by side with a turtle that's almost as big as you or being caught up inside a school of trumpet fish as they swim all around you. Imagine feeding a fish as he eats out of your hands while one of your loved ones captures it all on film.
It's like jumping inside the movie Finding Dori. 
Swim inside and around intricate coral reefs while watching families of fish whizzing by. You are cruising their highway and observing them in their true environment; the water is warm and clear - the color is the purest of blue.
Spend all day,  alternating between sunbathing, snorkeling, enjoying a picnic lunch on the beach and then rinsing and repeating it all over again.
This is what you've always dreamed of doing in Hawaii. A rainbow also just might appear as well to make the day even more ideal.
Once done at Hanauma Bay you can turn right outside of the parking lot and enjoy one of the most beautiful coastal scenic drives imaginable. 
You will feel like as though you're in a car commercial as you zig zag along the coastal cliffs perhaps choosing to stop at one of the scenic spot pullovers.
One that I would definitely recommend stopping at would be the Halona Blowhole. Here, there is a geyser-like formation in the rocks that shoots up water forming a vertical blowhole. 
To the left of there you can see the boogeyboarders at Sandy Beach catching waves below and to the right you'll be able to see a beach nicknamed the From Here to Eternity Beach - named after the 1953 movie that was filmed here. 
It's a beautiful, romantic little cove nestled at the bottom of a wall of rocks. If you're feeling adventurous climb down or just take beautiful photos from above.
Shark's Cove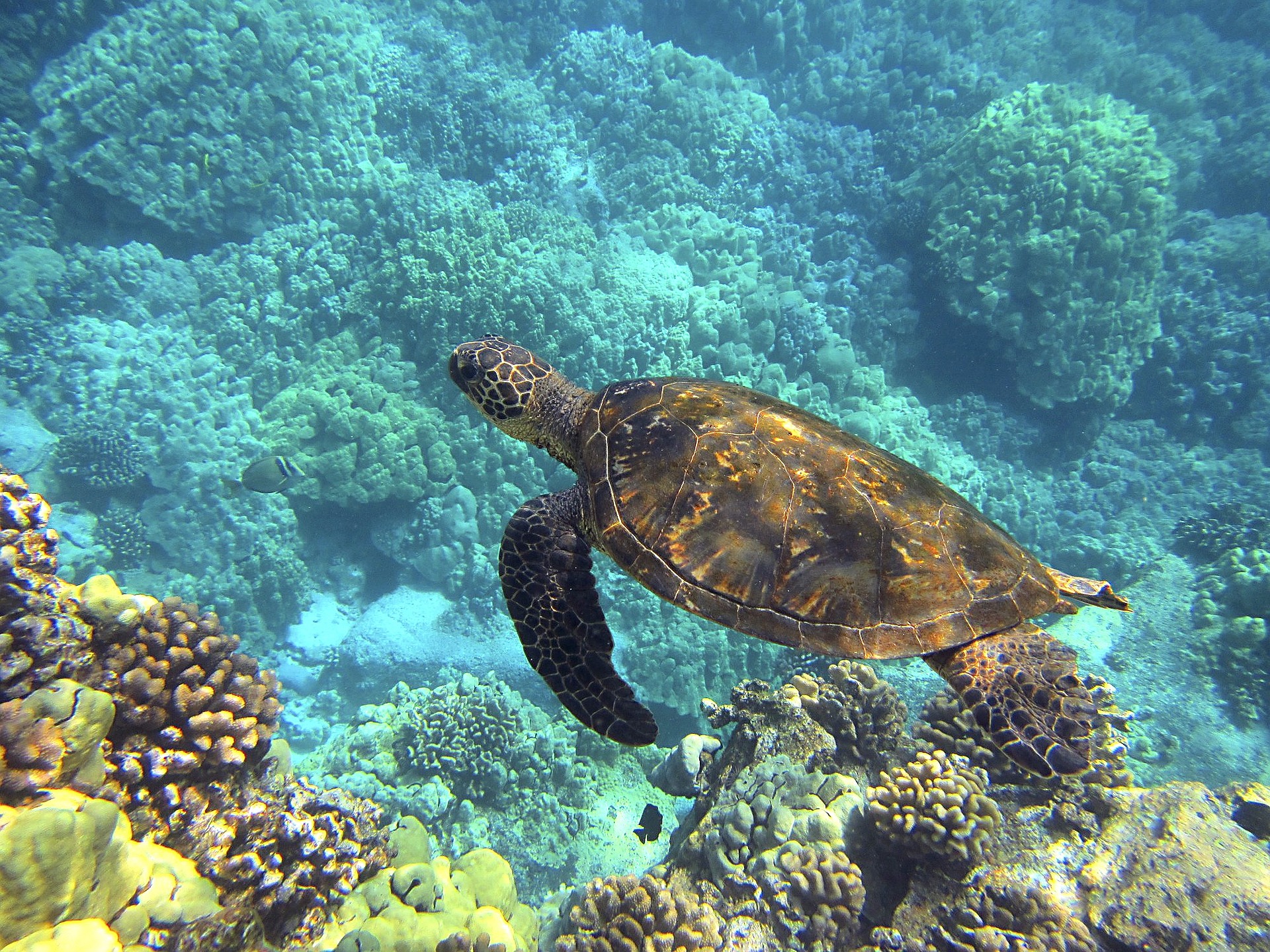 The other beach that you'll absolutely love snorkeling at is Shark's Cove on the north shore (summers only). Logistically, you can park right there and walk in. 

Don't let the name scare you away.
The rock formations of this cove are large and deep and will remind you of being on another planet with rugged formations and awe-inspiring shapes. 

These conditions allow sea creatures of all kinds to burrow deeply inside forming a unique environment in which to observe them in their true element.

Swim into sea caves and under rock bridges while taking pictures of unique species of fish that you've never seen before. It's like living a moment out of the pages of National Geographic magazine.
Meanwhile, in the distance the Waianae mountain range tower over paradise.
You arguably have the cleanest water on the island just outside of this cove. Gentle waves will splash and spill down the rock walls like waterfalls while you wade and snorkel. It is truly a marvelous sight to behold.
Another reason that I like Shark's Cove is that it allows you to explore the best highlights of the north shore. 

The world-famous Waimea Bay is just around the corner as is Waimea Valley. 
At Waimea Valley, which is run by the Audobon Society, you can stroll 1.5 miles to a waterfall through a rainforest while observing tropical plants and flowers as big as you are. They also have peacocks there who will walk right up to you.

Across the street is Shark's Cove Grill which has great bites to eat. They have delicious peanut butter smoothies and fish tacos. While eating you can watch the sun dance upon the water across the street at Shark's Cove. It's also located next to the Foodland Grocery store if you prefer to do things picnic style.
There's not really sand at Shark's Cove but if you have people in your party who would prefer to lay out on the sand Three Tables is a small, little beach about a 5 minute walk to the left. 
It is directly on the other side of the fire station and stoplight which are also to the immediate left of Shark's Cove. Here, you will also find restrooms and beach showers. 
Keep walking about another 10 minutes and you will find yourself at the world-famous Waimea Bay. This is the ultimate, large north shore beach with plenty of room to spread out.
Another convenience of Shark's Cove is a little store in which to rent snorkel gear - it's located across the street, next door to the grill. 
You can also buy beach-related accessories such as sunscreen, sarongs and souvenirs. In fact, there are a few places to eat and shop all within a one block radius to which you can walk easily and safely.
To the right of Shark's Cove is the beginning of the very popular bike path on the north shore. 
Imagine "living the life" of a local riding through the neighborhood past beautiful beachfront homes and bungalows while exploring which beach you'd like to hang out at for the day. 
You'll see surfers and locals of all ages dressed in bikinis and board shorts while zooming, walking or running by on their bikes or skateboards on their way to someplace important... like a beach or local snack spot. 
Try giving people the shaka when you pass them by. Chances are they will smile wide and throw one right back.

There truly is a laid-back lifestyle up here that'll allow you to experience the vibe and pace of a local while exploring the beauty of the north shore itself.
About the Writer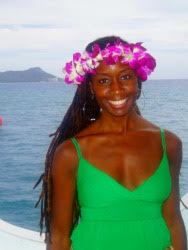 Stephanie Amieva is a former travel professional specializing in the Hawaiian Islands, most notably Oahu.
After living and working in the industry for the better part of 13 years she met and married her husband Pedro and is now an active duty military spouse. 
Even though her mailing address varies her home at heart is still in Hawaii and she visits whenever she can. 
---
---
---