Oahu - Paradise for Families
Oahu is the island with everything you need for family bliss and the top requirement has to be beaches. I've the best family friendly beaches on the island right here...
Our Hawaii section is run by our Hawaii expert Stephanie Amieva. 
Waikiki Beach
Waikiki Beach is the "classic" Hawaiian beach. It brings up images from the days of the vintage pin-up girls during WWII all the way to the current day images of Hawaii 5-0.
Here you can find everyone and everything. It ranges from Japanese tourists to folks from Texas and Australia all the way to couples eagerly waiting to say "I do". Waikiki is very much a melting pot and smorgashbord.
It is the great equalizer in that it doesn't matter whether you have 1 million dollars to spend on your vacation or you barely strung together a $500 getaway. Everyone enjoys it the same.
You have surfers catching waves, kids dashing in and out of the shore-break, beach boys giving lessons, concessions nearby and glamor girls soaking up sunrays from beneath peak-a-boo cabanas.
The people watching is fantastic, the weather is consistently great and sunny and the crowds are thick.
It's easy to walk in and cool off during a sunbathing session without worry of treacherous shore break or reef. 
Some parts of the beach are narrow and some are wide.
Waikiki offers convenience in the sense that you can walk to it in 30 seconds or 10 minutes depending on where your hotel is and how long the crosswalk signal is.
Furthermore, the times are similar to go catch a bite to eat or freshen up in your room.
Whether you want to watch the action in the water or the human theater before your eyes or just lie on the beach with your eye closed while enjoying a freshly made mai tai, Waikiki Beach is the one for you.
Rated high for convenience, calm water, easy accessibility without the need for a car, and consistent, sunny weather.
Kailua & Lanikai Beaches
Kailua and Lanikai beaches are the places to go if you'd like to relax and feel as if you are truly on an island in paradise. 
No crowds  on the weekdays, high-rise buildings, hotels or tour buses dashing about.
The water is turquoise blue, calm and tranquil. The sand is powdery white and soft and  stretches for as far as the eye can see in the distance. 
Kailua beach is a 1.5 mile crescent shape and in combination with Lanikai both beaches can see the twin Mokulua islands in the distance. 
This is certainly a memorable, Instagram-worthy spot to capture that photo that shows that "I was definitely in Hawaii". 
It's hard to take a bad picture there.
The water is gentle allowing you to calmly cool off after soaking in the rays of the sun.
Kailua beach is also lifeguard-manned so this provides extra safety. 
This area is also popular for windsurfers due to the breezes that propel them but will cool you off. 
Kayaking is also popular so imagine a short paddle to the nearby Popoia Island. It's popularly known as Flat Island because it's shape is flat. Here you can hike or look for turtles sleeping on the beach. 
Kayaks are available for rent or you can take a tour. 
The water is clean, the bike path runs adjacently and some great restaurants such as Teddy's Bigger Burgers or Whole Foods are but within a 10 minute drive. 

The Kalapawai Market is nearer still and makes great sandwiches and snacks on the go.

The Kailua/Lanikai beach area is so popular that former President Obama and his family used to stay here on vacations annually. Other celebrities include Rihanna, Jessica Simpson, Michelle Pfeiffer and John Travolta who have all been known to rent beach villas here as well.

Another desirable trait about this area is that it's only a 30 minute drive to Honolulu so you will have the best of both worlds. 

You can relax and unwind in this laid-back beach community yet be able to go to the city for lots of things to do such as festivals and shopping.
Directly north or south from this enclave will put you on the path to incredible scenic driving: 
Go north and enjoy a windy beach front drive through small Hawaiian towns towards the north shore. 
Go south and you'll be driving through Waimanalo towards Hanauma Bay and Hawaii Kai. 
Both will hug you between the majestic Ko'Olau mountains on one side and crystal clear blue Hawaiian waters on the other.
The downtown area of this community also has cute boutique shops to explore for everything from souvenirs to locally-made handicrafts by artists.
Waimanalo Beach
Want a taste of old Hawaii mixed in with nearly deserted beaches and horses grazing lazily in the distance? 
Would you like to stay in a reasonably-priced oceanfront vacation home that's fairly large in size and wake up to gentle breezes in the morning? Does easy parking sound appealing? 
Would you like to grab a snack at a store that looks much the same as it did when it probably opened over 50 years ago and have casual encounters with people whose family can be traced back for several generations in the community?
If so then Waimanalo is for you.
Most people drive right THROUGH Waimanalo but have no idea what treasures lie down one of these sidestreets.  
They don't know that the beach is several miles long running from just past Makapuu Beach to Bellows.
If you go up to the Makapuu Lighthouse lookout (or the lookout you can drive up to) you can see the beach but when you get back in the car and keep driving most of it is not visible save for a peekaboo slice here or there.
Waimanalo beach is a hidden treasure that's not to be missed and the word is still largely not out to most people. 
Definitely plan a trip here if you want to enjoy that Hawaiian beach you've always dreamed of, that you can sleep on for hours undisturbed or walk endlessly before asking "will you marry me?"
Ko'Olina Beach
Want to be away from the hustle and bustle of Waikiki but still want the conveniences and pampering of a resort?

Ko'Olina is for you.
Ko'Olina is a resort area located about 45 min-1 hour away from Waikiki. 
It's a self-contained area with oceanfront resorts, a golf course and paths that are perfect for jogging and walking.
The Disney Aulani Resort, the Four Seasons and Marriott's Beach Residences call this area home. The Paradise Cove luau is also here and there's a marina at the end from which you can take snorkeling cruises that will take you to world-class reefs up and down the coast. 
The Wet n' Wild amusement water park is nearby and the town of Kapolei is about a 5 minute drive where you can find all of the modern conveniences of a movie theatre, chain restaurants and more. Additionally, the newly-built Ka Makana Ali'i shopping complex is nearby as well. 
As far as beaches go they're smaller but I'd say that they're cleaner because there's not as many people and commercial activities taking place here.

Kapolei is known more for its lagoons of which there are 4 main ones. These are perfect for those who want to experience the ocean in a more controlled environment. 
The open ocean is just on the other side of these circular rock walls but you can swim more safely with your children without having to worry about currents and the like. 
You might also feel safer here because even though they're open to the public everyone who wants to peruse the Ko'Olina area has to drive through a main gate that is manned 24 hours. If you look like trouble or like you're not staying in the area you're not getting in.
The beach at Disney is just for its patrons so this adds a further sense of security if staying here. Anyone can walk around the grounds to say hello to Mickey Mouse or have lunch though.
Overall, the beaches at Kapolei are clean, calm and family-friendly. The sand is more firmly packed but you're more likely to find other playmates for your children here and it's easier to push a stroller up to the water's edge.
One more bonus: the sunsets. 
Because Ko'Olina is on the west side and is situated to face directly west you can watch the sun set perfectly into the ocean on the horizon without visual interruption. 
There's no high-rises other than the mid-rise resorts and each property has its own large campus so there's plenty of elbow room to move around.
Ko'Olina is perfect for couples and families alike and if you'd like to have an incredible sunset as the backdrop to your Hawaiian fantasy vacation then Ko'Olina is perfect for you.
About the Writer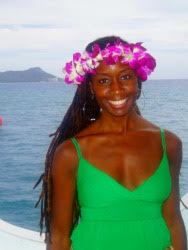 Stephanie Amieva is a former travel professional specializing in the Hawaiian Islands, most notably Oahu.
After living and working in the industry for the better part of 13 years she met and married her husband Pedro and is now an active duty military spouse. 
Even though her mailing address varies her home at heart is still in Hawaii and she visits whenever she can. 
---
---
---