Connemara, Ireland : soft beds, hard country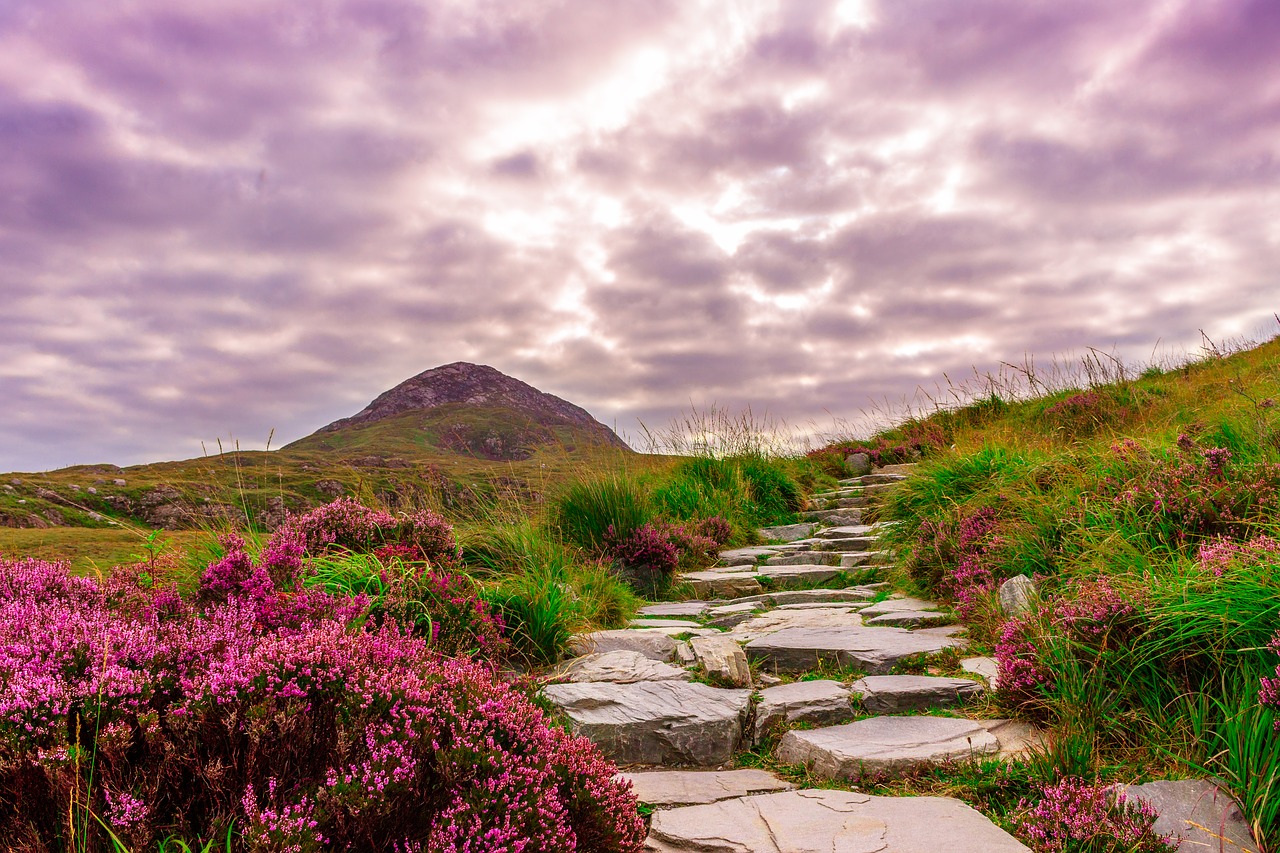 When we came to the Connemara, Ireland decided we'd done something right and, finally, the clouds parted and bathed us in warm sunshine.
We took the ferry from Cleggan Pier to Inisbofin Island; cruising into the harbor, I watched a flock of gannets flying over Port Island, and I turned to one of the locals on the boat with us that day, and I said to him… you live in paradise. 'Oh, I dunno 'bout 'dat, he said. If dis was paradise, I'd have me own boat and I'd not be up at four tirty in the mornin' six days from seven.'
Then he grinned and said, 'but I'd not live anywhere else, I tell ya, not fer all the girls in Galway.'
For me, that story sums up the Connemara region. Yes it's beautiful here, breathtakingly so, on tiny Inisbofin and on the mainland.
But Connemara is, in part, quite desolate, and the beauty here is a strong, tough beauty, that survives the pounding Atlantic. Lots of folk live off what the sea provides. They don't live in paradise, they live in an elemental, remote hinterland and they study at the school of hard knocks. 
The Green Tourist
The locals treasure Connemara, and they keep it in good nick. But when talking about it I find them understated, as a rule.
When I first came here, years ago, I raved about Connemara, to anyone who'd listen. A few nodded politely, others stayed quiet and looked amused, as if keeping something to themselves, some deeper knowledge of the place, beyond what you read and see in the brochures.
I came to appreciate that attitude.
Today, knowing the Connemara a little better, I'd describe it a little less, and let it speak for itself. 
The Driven Tourist
To hear the Connemara speak for itself, you must first arrive here… then it is largely up to you.
The tour operators will bus you around, take you down the spectacularly scenic Sky Road, to the lakeside jewel that is Kylemore Abbey; and to other bucket-list sites: like Letterfrack and the Connemara Ireland National Park, where sturdy ponies graze the slopes of Twelve Ben mountain; or to Ballyconeelly, where a Championship Links golf course awaits the brave golfer. 

Ballyconneelly's Coral Strand is a favorite for beachgoers, and a great family day out on a nice day. For me, though, the more rural Gurteen beach and Dogs Bay beach are better. (See out best beaches feature.) 
The Driving Tourist
Or you can hire a car and get lost (figuratively speaking of course). Even in summer, Connemara's beaten track stretches only so far. This remote part of Ireland is THE place to get away from it all. With a reliable GPS it's easy to find a secluded cove and unleash the beachcomber in you. Seriously, there are parts of this coastline where you'd swear you were on another planet.  
You can also go traipsing on the stark peat bogs and headlands further inland. Good luck there.
Playing in the Rain
Alas yes… not much sun on this trip. But we went out-of-season, when wet weather is part of the deal. During Ireland's darkest (literally) and wettest days, it's best to embrace it for what it is. Try to enjoy the outdoors no matter the rainy days, and relax in the evenings with the cozy comfort of a fireplace with a mug of Hot chocolate, or an Irish whisky (if you prefer) in hand.
At such times we're grateful for the cozy common room and soft warm beds at Seafield House B&B, complete with fireplace and TV. Beautifully set in the country, close to Clifden on the famous Sky Road, it has gorgeous views (once the mist lifts), big bedrooms, well stocked bathrooms, solid Wi FI and a full breakfast. 
If its just one or two of you, the Errisbeg House B&B in Roundstone is great. It's simple, cozy, but it works. The salmon and scrambled eggs are as good as anything on a breakfast menu… and you're next to Gurteen and Dog's Bay.
The Red Carpet
If you want the premiere Connemara experience, base yourself at Ballynahinch Castle Hotel and expect the royal treatment.
Ballynahinch has had a face-lift of late but remains proper old school. Fine dining at the Owenmore Restaurant, in a polished mahogany setting, kippers for breakfast (if you prefer), clay pigeon shooting, and a host of pursuits laid on by expert staff in the extensive estate grounds.  
Pure Connemara class.
Sweet and Savory
The Lamb with nettle pesto is a signature dish at the Owenmore, and so precisely presented by chef Pete Durkan. It continues the classy Ballynahinch theme, as do the wine and ale pairings. 
If you're just looking for good old Irish, you can do worse than the lunchtime menu at Mitchells in Clifden. Fans of smoked fish will enjoy the Connemara Smokehouse; and for a café vibe, try the Blackberry Café on the Killary Harbor.
What Else?
I loathe to say anything about Connemara, actually it's a region one arrives at, then discovers for oneself.
There is much to do, so…

Getting Here
Connemara is reached by car on the N59 from Galway (20 mins away) or from Westport. If you're up for a trans-Ireland road trip, take the N6 from Dublin. Bus Eireann will get you here, as will the ferry, from Dublin, Cork, or Belfast; or fly into Knock Airport. 
Your more primal instincts will direct you from there…
---
---
---