Captain Cook Highway and Beyond
More often than not, I have too little time to travel in this country. I miss that!
This recent trip however, hubby insisted that we go somewhere exotic in Australia. So we booked tickets to Cairns for one week. Cairns is situated in tropical Far North Queensland. 
The following morning, we drove on the amazing Captain Cook Highway to the picturesque town of Port Douglas.
Captain Cook Highway is a breathtakingly beautiful road, and on purpose I drove so that hubby and son could look at the views!! It is said that this 75km highway is one of the most scenic coastal drives in the world.
One side is the rugged coast, and the other side the tropical, lush rainforest.
Tip: you definitely want to drive this road in the day time so that you get those incredible views. The road is narrow and very windy in parts and would be quite scary and challenging to do at night!

Port Douglas is famous in particular for the Four Mile beach. After breakfast, we walked to the northern section of Four Mile Beach and started our way upwards on the lovely Flagstaff Hill Walking Trail.
It is only 1 1/2 kms long and not too difficult but it offers such gorgeous views of the Four Mile and Daintree Rainforest beyond.
There is even a viewing platform that literally hovers over the sea. Perfect place for photo shots
Once we got to the top, we were rewarded with such magnificent views.
It's a view that pretty much summed up our North Queensland travels in the past week - mountains, rain forests and long stretches of practically untouched coastline.
To get back down, you can either walk back on the same trail or walk along the road… of course we took the gorgeous trail down back to Four Mile Beach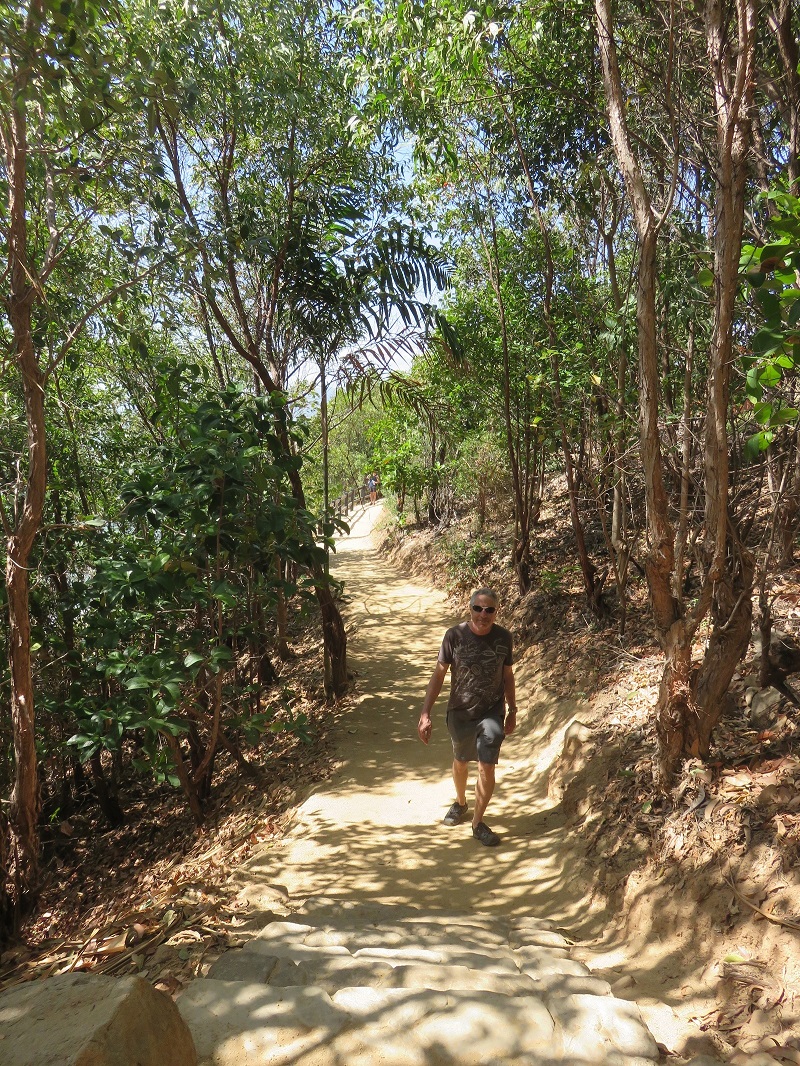 Trail Down to Four Mile Beach
We were still feeling energetic and started walking southward on the beautiful Four Mile Beach. It is wide and long and quite empty for the most part.
The side of the beach is lined with coconut palms trees so I guess you need to watch out for falling coconuts… OUCH!!
In total, we must of walked over 8 kms. So we rested our weary legs on the beach, lying on hired sunbeds and shaded by sun umbrellas. BLISS!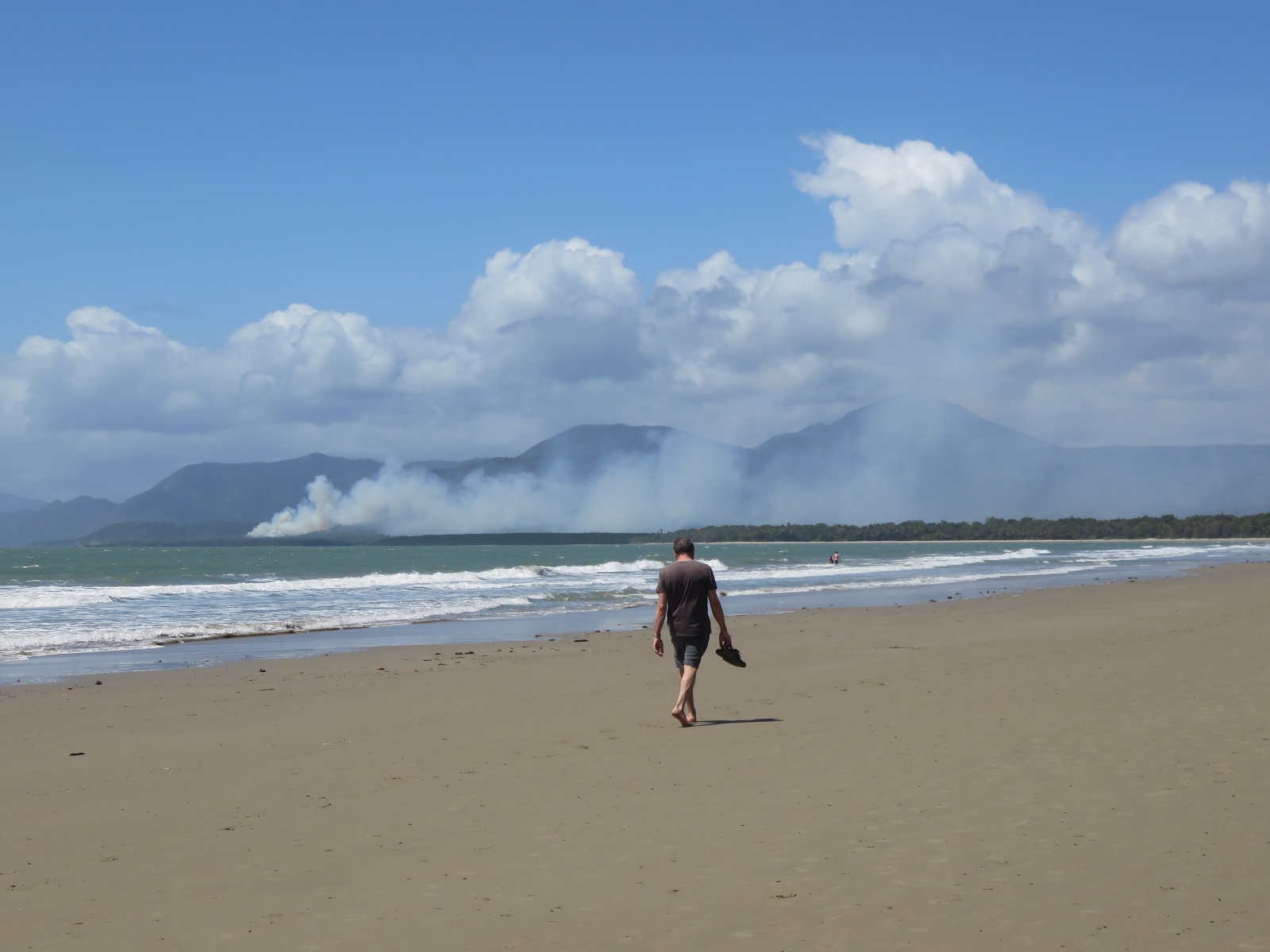 Four Mile Beach
Since we travelled in the beginning of October, we were able to swim in the ocean.
However, from November until around May (the summer months), the ocean is full of deadly box jelly fish, which are considered the most venomous animal in the world.
Within minutes of being stung, you die (OMG!!).
Another hazard of this area are the salt water crocodiles, also very unfriendly and deadly to us human beings! (YIKES!!). So it is advised to swim only in a small area of the beach that is netted against jelly fish and watched closely for crocs!!! 
We swam in the allotted area and  enjoyed the sparkling, clean water!
We survived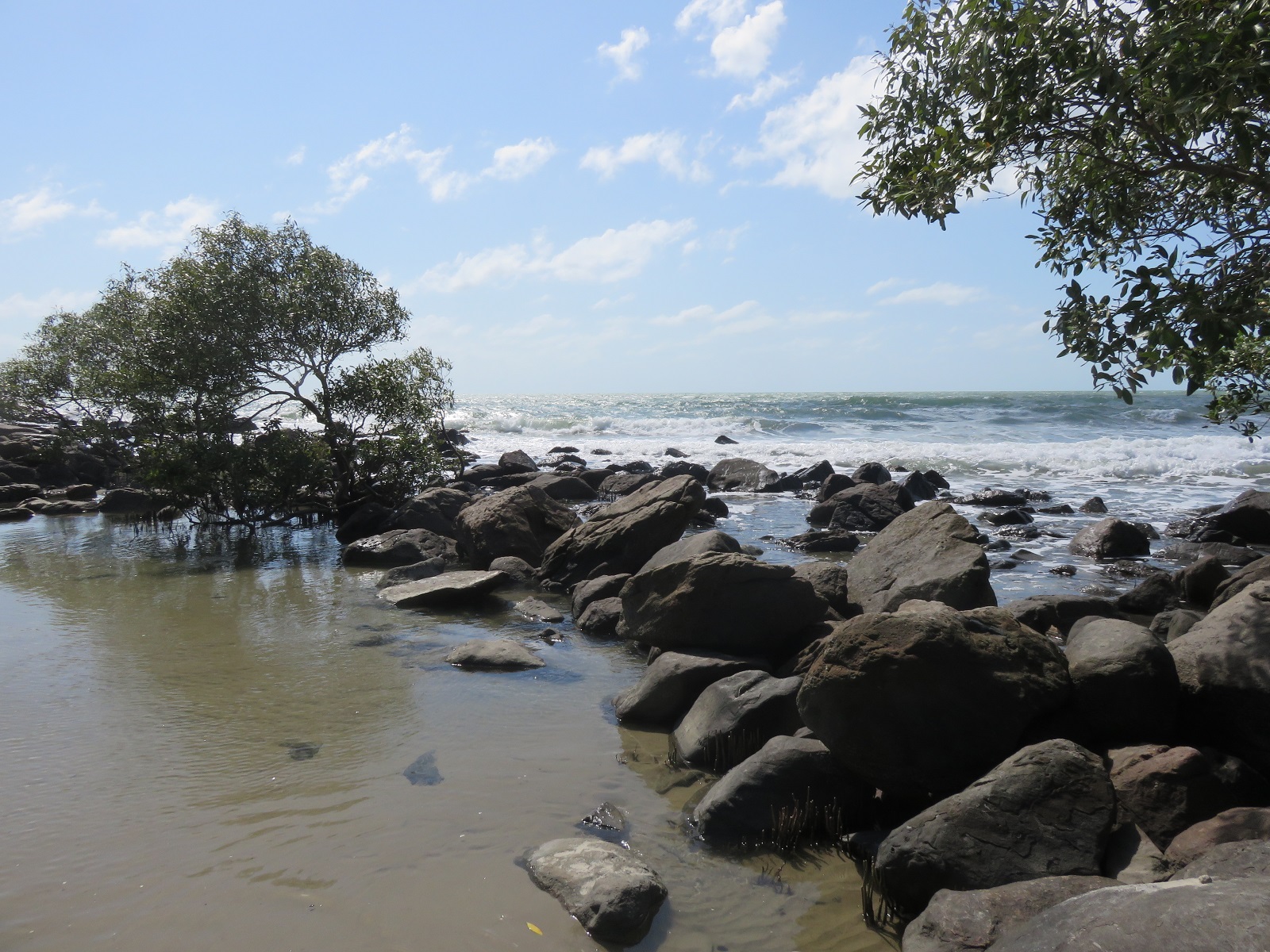 Rock Pools
It is worthwhile noting that at the northern end of Four Mile Beach is an area that is densely populated with rocks. As the tide splashes over the smooth boulders, it creates little rock pools, perfect for children to play and explore. The larger rocks can be used to sun-bathe on

Another fun activity offered at Four Mile beach are the daily one hour Yoga Classes. They start at 08.00 am and cost $20 a class. My daughter would have loved that! 
North and south of Port Douglas are endless beaches to choose from and most of them are deserted. We often had beaches all to ourselves!!!  Below are a few pictures of beaches not far from Port Douglas which were empty of tourists and so grand in their virgin beauty.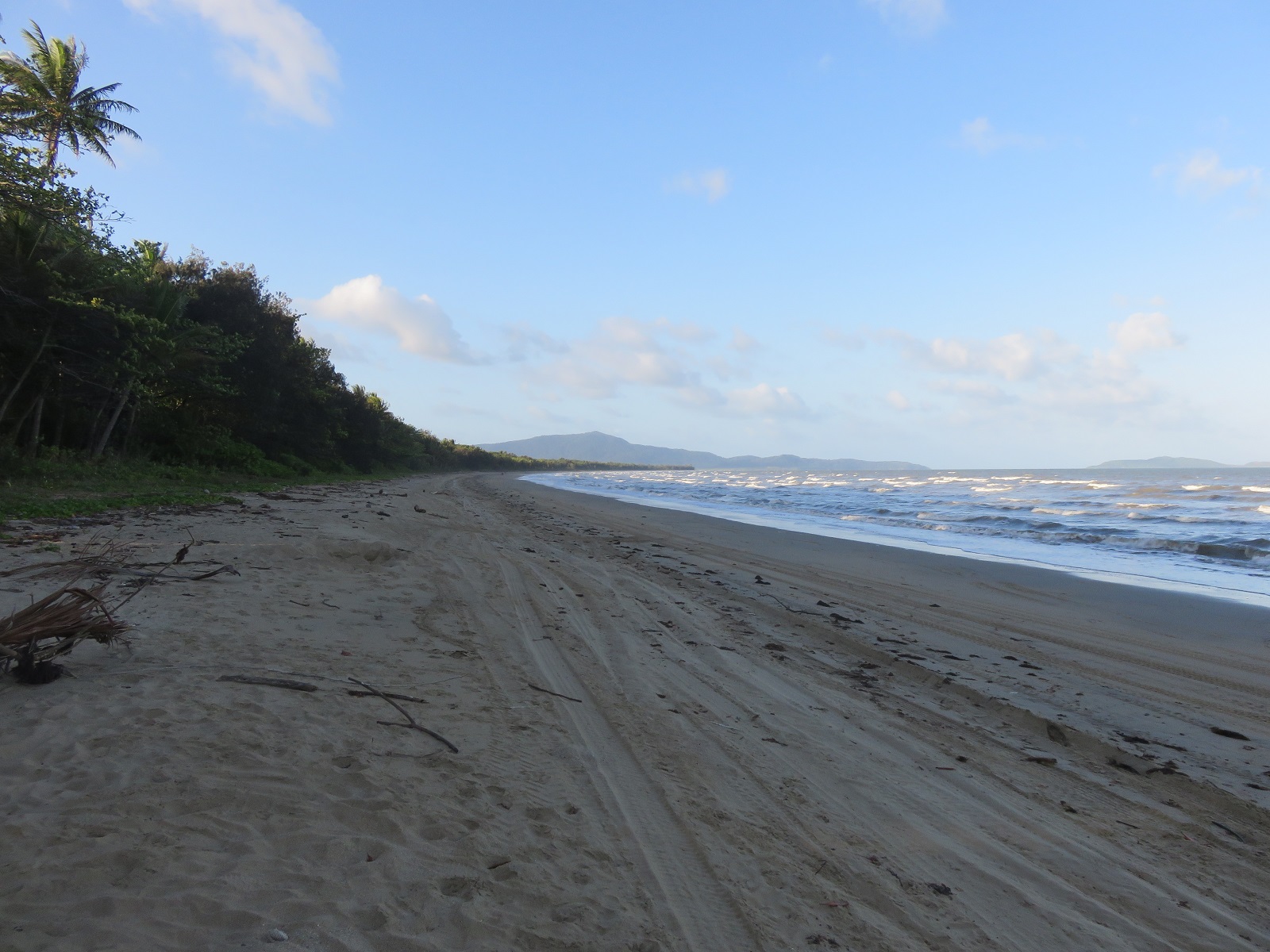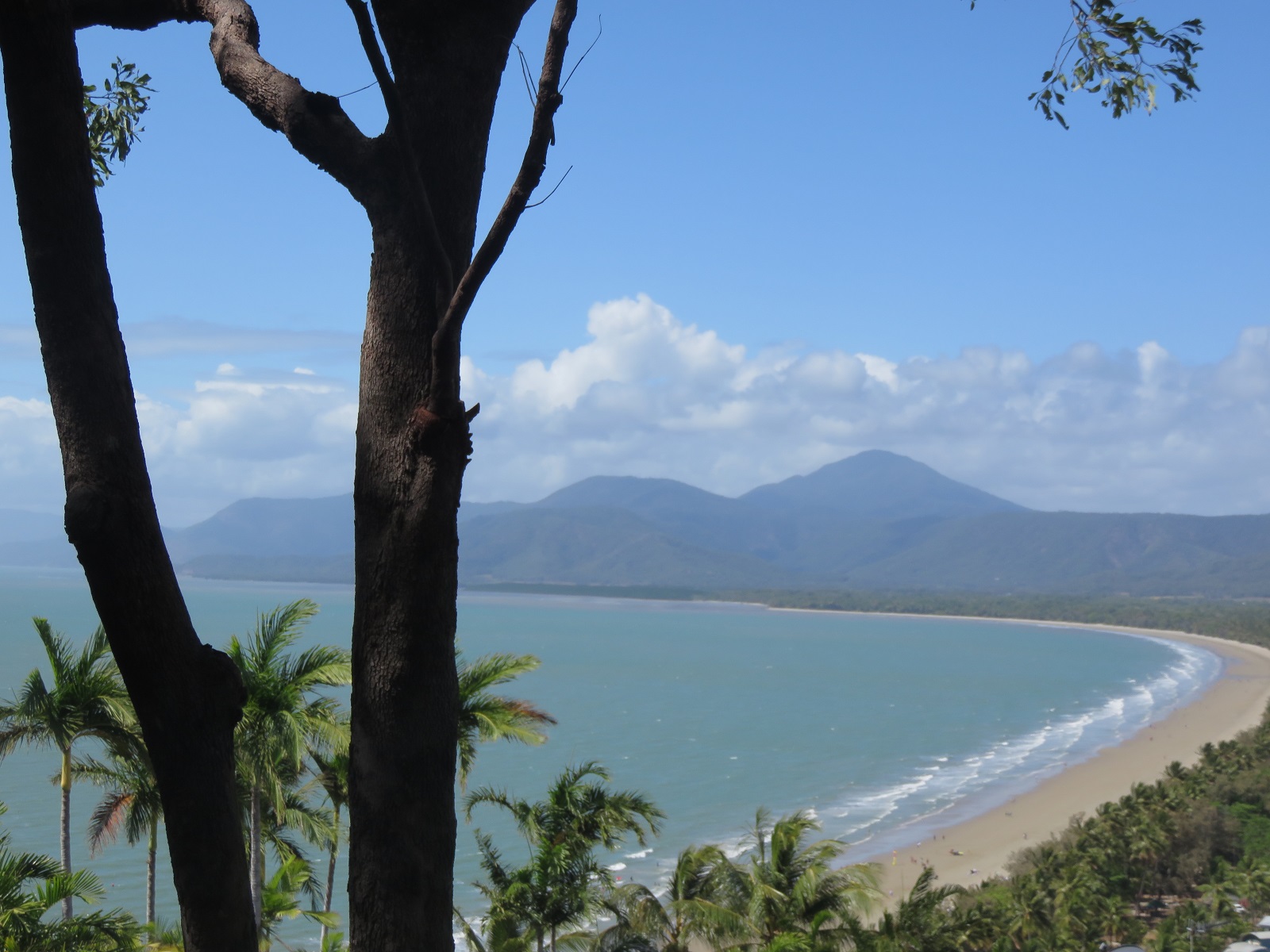 I am now back home but seriously pining for these beaches….  Take me back there.

---
---
---